Holly Smith & Denver win 3* Grand Prix in Spain
Sunday 29 November 2020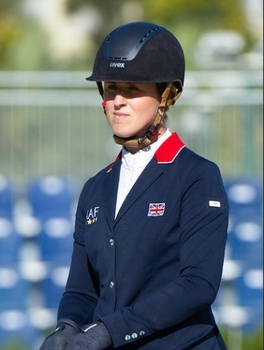 It was a well deserved victory for Holly Smith, from Leicestershire, this afternoon when she won the CSIO3* Sunshine Tour Grand Prix in Vejer de la Frontera in Spain.
The 1.50m course, designed by Javier Trenor, was a testing one which in the first round asked for a mix of 90 degree turns, related distances and a forward pace if the riders were to cover the sixteen jumping efforts within the time allowed of 76 seconds.
From the field of sixty starters it was only eighteen that managed to jump clear in the first round with that number being further whittled down to eight clears in the jump off. It was Holly Smith though with the 12 year-old bay gelding Denver owned by Ian Dowie who put in an incredible performance to shave a fraction of a second from the fastest time before her to edge into the lead and claim the win.
With just one rider to follow her and knowing she had to beat the time of 37 seconds to claim the lead ahead of David Will (GER) and C Vier 2 she put her foot the floor from the start. A flyer at the final fence and a push through the finish line saw Holly stop the clock in a time of 36.76 to take the lead. With the final rider, Gregory Wathelet (BEL) retiring when they picked up some penalties it was a jubilant Holly that took her place at the top of the presentation line.
Di Lampard, World Class Performance Manager for Showjumping, said afterwards "This was a fantastic result. As the penultimate combination to come forward in the jump off the pressure was definitely on them. She was foot-perfect today and taking a stride out to the final fence is what saw her claim the lead and force an error by the final rider that followed."
Joining Holly in the jump-off was fellow British rider Joe Stockdale from Northampton with Cacharel owned by Joy Cocklin. A fence down in a time of 44.82 saw them finish in eventual 15th place.
For full results visit www.sunshinetour.net