Holly Johnstone claims NAF Five Star Bronze League Qualifier win at Dean Valley EC
Monday 19 April 2021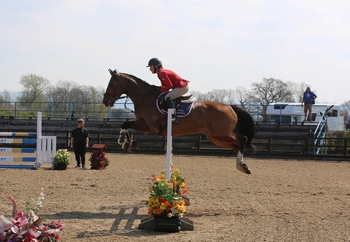 On Saturday Dean Valley Equestrian Centre played host to the first NAF Five Star Bronze League Qualifier of the season and it was Holly Johnstone from Newcastle upon Tyne who scooped top spot on board her own Carquois Du Ceve.
There was some tough competition in the field of thirty-six combinations, but Holly kept her cool to make it thought the first two rounds and into the final jump off. With ten other competitors also making it through, Holly kept her cool and stepped up a gear to win with her 9 year-old gelding as they flew in to first place with a treble clear in just 36.90 seconds.
Dean Valley EC – Saturday 17th April
NAF Five Star Bronze League Qualifier
1st Holly Johnstone & Carquois Du Ceve – 0/0/0 – 36.90 seconds
2nd John Shaw & Ulisina II – 0/0/0 – 37.83 seconds
3rd Ella Dickenson & Calaite Van Generhese Z – 0/0/0 – 39.71 seconds
For the full results, click here and for the list of qualifier riders so far, click here.
NB: Results pending official grading.
Image: Holly Johnstone & Carquois Du Ceve in action in the NAF Five Star Bronze League Qualifier at Dean Valley EC [Credit:Al Johnston Photography]
NAF Five Star:
NAF's premium range of Five Star brands include Superflex, Superflex Senior, PROFEET, Optimum, Magic, Oestress and Respirator Boost with quality at the heart of everything they do. They are a UFAS (Universal Feed Assurance Scheme), GMP+ (International Feed Assurance Scheme) and BETA NOPS (Naturally Occuring Prohibited Substances) accredited company and this enables them to guarantee full traceability on all the natural ingredients they utilise in their formulations, which are also selected in compliance with the FEI guidelines for Clean Sport. For further information, visit www.naf-equine.eu/uk/index.jsp.