Harry Charles dominates in London
Monday 20 December 2021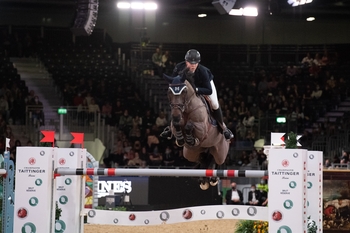 It's been a phenomenal two days for 22 year-old Harry Charles, from Alton Hampshire at the London International Horse Show. Yesterday saw him win the World Cup qualifier on the 11 year-old mare Stardust and this evening, he brought the show to a close when he won the Grand Prix aboard the 15 year-old gelding Borsato.
It was just short of thirty competitors that came forward to contest the 1.60m course designed by Guillherme Jorge and the field was a strong one. It was the eighth obstacle, a vertical-vertical-oxer combination, that proved the most problematic with it catching many out and it was nine that managed to make it through the second round having jumped clear.
Jumping in their initial order of go it was young Harry who was the first to return into the arena having posted the initial clear of the competition previously. Wanting to lay the gauntlet down and hopefully put the pressure on those to come after him he pushed forward to post an incredibly fast clear in a time of 33.53 seconds. Setting a standard that everyone was going to be hard pressed to match it was then a case of having to just sit back and watch whilst everyone tried to take him on. It wasn't until the penultimate rider came forward, Ben Maher on the 10 year-old mare Ginger Blue, that it looked like Harry may be at risk. Skilfully guiding the bay mare around the course they looked like they may well be able to catch Harry, however despite taking a flyer at the last it proved impossible when they crossed the line just 4/10th of a second slower.
Edward Levy (FRA) and Rebeca LS took 3rd with their clear in 34.30 seconds whilst Harrie Smolders (NED) and Dolninn NOP took 4th making them the only other combination to jump double clear when he opted to take his time around the course rather than risk a mistake to stop the clock in 37.02 seconds.
Talking to the audience during the presentation Harry said "Weekends just don't get better than this; I'll probably never have another one like this again in my life and what a way to end the year. Thank you to everyone for putting on such a fantastic show in it's first time here and I can't wait to come back!". Asked whether he knew he had done enough to secure the win after his jump-off round he said "To be honest No, I just did all I could and then went back to the stables and didn't watch anything – I bowed out!". He also acknowledged the audience when he said "I think the crowd make the show what it is so thank you to everyone for supporting us."
Their win brought the London International Horse Show to a close after what has been a fantastic week of showjumping. Further information and full results from all classes can be found at www.londonhorseshow.com