Enjoy The Best Seats in Liverpool with the VIP Paddock Club
Friday 15 October 2021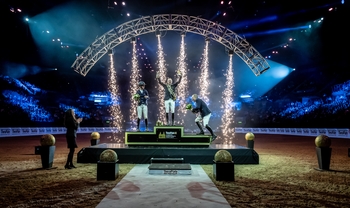 Lighting up the heart of Liverpool with an unrivalled line up of top level showjumping, family fun and entertainment, The Voltaire Design Liverpool International Horse Show returns to the M&S Bank Arena from 31st December 2021 to 3rd January 2022. Tickets for the ultimate equestrian New Year celebration are now available to purchase at www.liverpoolhorseshow.com.
Continuing to raise the bar in all areas, this year's show sees the launch of the exclusive Paddock Club, a lavish VIP experience breaking new ground with its unique opportunities to get up close and personal to the stars of the show. Providing a luxurious VIP service, The Paddock Club presents the ultimate experience including a reserved hospitality table, delicious food and drink and VIP car parking, alongside all the top sporting action from the best view in the house. Enjoy all that The Paddock Club has to offer, tickets can now be secured to spectate in style at www.liverpoolhorseshow.com/vip-tickets.
With an emphasis on high end sport, the thrilling schedule will see the very best names in showjumping go head-to-head in the hotly contested World Ranking classes, before climaxing with the CSI3* Grand Prix, taking place on Monday 3rd January. Supporting the CSI3* Grand Prix is long-standing show partners, Old Lodge Stud, owned by Prince Torki Bin Mohammed Bin Saud Al Kabeer. Sharing the same ethos and passion for supporting showjumping in the UK, this is an exciting new addition to the show schedule and promises to be a thrilling finale to the event.
Prince Torki, Owner of the Old Lodge Stud, said: "I'm pleased to announce that Old Lodge and Sultan Stables will be sponsoring the Grand Prix at the Voltaire Design Liverpool International Horse Show. This prestigious show is one of my favourites on the showjumping calendar. Nina Barbour and her team put on an amazing show with quality horses and international riders. The hospitality is excellent, and all the guests are very well looked after."
Show Promoter Nina Barbour said: "I would like to extend a huge thank you to our long-standing partners Old Lodge Stud for their ongoing support. We have enjoyed an ongoing friendship with Prince Torki Bin Mohammed Bin Saud Al Kabeer and his team, who have enjoyed much success at Liverpool in the past, having won the CSI 4* Grand Prix with Old Lodge's very successful stallion Golden Hawk, ridden to victory by Top Irish rider Shane Breen, and we very much look forward to this exciting next step to further build our relationship of shared values with a desire to support the British Showjumping industry."
This year's show welcomes several exciting new additions, including the Windmill Farm Estate 7-year-old Championship, which places a firm focus on the stars of the future. The first of its kind, this final will see the top fifteen placed 7-year-old horses from the Al Shira'aa Bolesworth Young Horse Championship contest the CSIYH* on Sunday 2nd January 2022, with a warm up class taking place on 31st December. Alongside the qualifying places, there will also be an additional fifteen invitational places available at the discretion of the organiser.
Tickets are now available to purchase for all sessions at www.liverpoolhorseshow.com. General admission tickets are £15 for the daytime of the 31st December. Adult tickets for all other performances are available from £44.95 and child tickets (under 14) are £18.95. Family tickets (two adults and two children) are also available from £25.75. Optional ticket upgrades to see An Audience with This Esme and Ben Hobday can also be secured at £24.95 for adults and £19.95 for children (under 14), which are available to purchase after selecting your tickets.
Group bookings can benefit from discounted ticket prices with 10% off groups of 10-19 people on Silver Tickets and 15% off for groups of 20 or more on Silver Tickets. Further information about group bookings can be found at https://www.liverpoolhorseshow.com/group-bookings/.
Further information for riders can be found at www.liverpoolhorseshow.com, expressions of interest to compete are welcome, please email riders@bolesworth.com.