Emily Morris Scoops Top Spot in the NAF Five Star Silver League Qualifier at Dean Valley EC
Monday 19 April 2021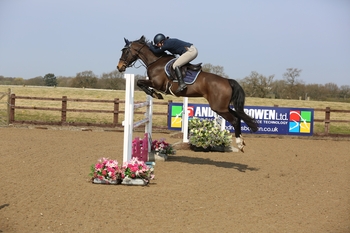 Riding her own 10 year-old bay mare, Bean Cruising Emily Morris from Shropshire skillfully scooped top spot in the first of the seasons NAF Five Star Silver League Qualifiers at Dean Valley Equestrian Centre.
As one of twenty-eight starters in the class Emily made light work of the first two rounds to head into the jump off with seven other talented combinations. With speed on her side Emily rode a strong round, breaking the 40 second barrier to post the winning triple clear in 39.93 seconds.
Dean Valley EC – Sunday 18th April
NAF Five Star Silver League Qualifier
1st Emily Morris & Bean Cruising – 0/0/0 – 39.93seconds
2nd Martha Newall & Casquetta SN – 0/0/0 – 40.71 seconds
3rd Grace Wallace & Eau Claire V – 0/0/0 – 40.91 seconds
For the full results, click here and for the list of qualifier riders so far, click here.
NB: Results pending official grading.
Image: Emily Morris & Bean Cruising in action in the NAF Five Star Silver League Qualifier at Dean Valley EC [Credit:Al Johnston Photography]
NAF Five Star:
NAF's premium range of Five Star brands include Superflex, Superflex Senior, PROFEET, Optimum, Magic, Oestress and Respirator Boost with quality at the heart of everything they do. They are a UFAS (Universal Feed Assurance Scheme), GMP+ (International Feed Assurance Scheme) and BETA NOPS (Naturally Occuring Prohibited Substances) accredited company and this enables them to guarantee full traceability on all the natural ingredients they utilise in their formulations, which are also selected in compliance with the FEI guidelines for Clean Sport. For further information, visit www.naf-equine.eu/uk/index.jsp.