Dodson & Horrell Bolesworth International Horse Show unveils an impressive line up of showjumpers and eventers for a showjumping spectacular
Tuesday 21 June 2022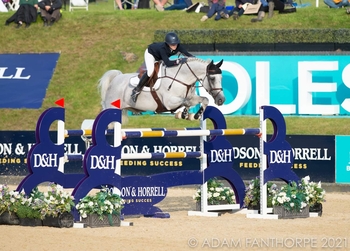 The Dodson & Horrell Bolesworth International Horse Show is excited to welcome an impressive line up of well known showjumpers to Bolesworth later this month (29th June-3rd July), who will be competing against each other and high profile event riders during the show.
Top names entered for classes across the five days of showjumping include Guy Williams, William Funnell, Geoff Billington, Joe Stockdale, Joe Davison, David Simpson, Louise Saywell, Holly Smith, Jack Whitaker and Angelie Von Essen, to name but a few. What might be surprising is that the eventers are also showing good entries with Pippa Funnell, Gemma Tattersall, Ben Hobday and Chris Burton also competing.
"We are so excited to welcome everyone back to Bolesworth soon; the entries are looking fabulous," said Nina Barbour, Managing Director of Bolesworth. "We have some incredible riders and amazing horses. It's going to be a great competition.
"We love that our venue is now attracting event riders too. We know that the riders coming are also well known on the showjumping circuit, but having them here is really exciting for us. We like to see a bit of cross sport rivalry too!"
The Dodson & Horrell International Horse Show starts on 29th June and will run until 3rd July. In addition to International Showjumping Classes, visitors will also be able to see young horse classes, International Amateur Classes, the Science Supplements A List Auction, Mini Major Pairs Relay, Puissance and the Dodson & Horrell Bolesworth Grand Prix. On Thursday, AP McCoy and Michael Owen will also be at the show. This incredible programme of sport sits alongside entertainment, food, drink and shopping.
To get your tickets online and for more information, see www.bolesworthinternational.com