Claudia Moore and Team Europe finish second at the Youth Equestrian Games in Aachen
Friday 01 July 2022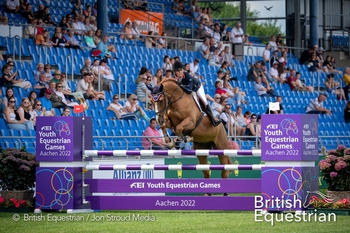 Earlier this month British Showjumping were pleased to announce the selection of Claudia Moore, from Essex, to represent Great Britain at the Youth Equestrian Games 2022 (YEG) in Aachen (GER).
Divided into six continental teams, the 30 contenders from 30 different countries had only a few days to get to know their borrowed horses before the first round on Wednesday. Claudia had picked to ride Largo van de Molenhoek, a 11 year-old chestnut gelding, usually ridden by Dominika Gaalova from Slovakia. In the first round, Africa, Europe, Asia and North America all finished on a score of 0 when the best three results from each group were taken into account.
In the second round yesterday, Claudia and the other members of Team Europe posted further foot perfect clear rounds to keep them on a team score of 0 faults, along with Team North America and Team Africa. It would take a thrilling three-way jump-off to decide the result of the team competition at the FEI Youth Equestrian Games 2022 in Aachen, Germany last night. Claudia was chosen as the member from Team Europe to ride the third and final round in three-way battle for the podium places, and the combination jumped around clear in a quick time, only just finishing behind first place. It was the North American quintet who clinched gold ahead of Team Europe in silver and Team Africa in bronze.
"I knew Mimi [Gochman, North America] had an incredible round and I wanted to match that. I kept quite cool, calm and collected and went in and I had so much fun and I had my entire team behind me and I think that was the thing that drove me the most!", Claudia said. Much like all the young riders this week she thoroughly enjoyed competing in the world-famous Soers arena. "The crowd, the atmosphere, the ground, the jumps, it's such an amazing thing for the youth. Some people in their professional career never get to jump at Aachen and for us to be able to do it at this age, and have this type of experience early on, is amazing!", she said.
Full results can be found here.
Whilst the team competition has finished, the individual competition gets underway on Saturday 2nd July. To find out more about YEG, visit the FEI YEG page. To see the rest of the competition, unfold, watch it all on ClipMyHorse TV. Follow the CHIO Aachen Instagram page for further updates.
Claudia Moore has been on numerous Nations Cup and European teams in Ponies and Juniors. In 2018, she won individual bronze and team gold at the Pony Europeans, followed by team silver in 2019 and Junior team bronze in 2021. In 2019, Claudia took individual second place in the CSIOP Grand Prix and a team win in the CSIOP Nations Cup Final in Opglabbeek. In Kronenberg last year, she took fourth place in the Grand Prix in the CSIOJ Nations Cup Final. More recently Claudia took a second place in the 1.40m Grand Prix at the CSIOJ Youth Nations Cup show in Fontainebleau last month and has been selected as part of the Youth European Championship Junior Squad. Nationally, Claudia has numerous placings at 1.40m.
Image: British Equestrian / Jon Stroud Media