British Showjumping's Team NAF announced for Barcelona CSIO5* Nations Cup Final
Tuesday 14 September 2021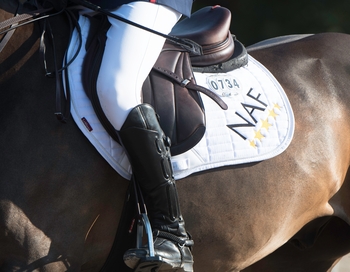 Following an invitation to compete in the CSIO5* Longines FEI Nations Cup Final in Barcelona the following squad have been selected to represent Great Britain under the title sponsor banner of Team NAF. The competition takes place between the 1st – 3rd October 2021 at Fundacion Real Club de Polo de Barcelona.
Harry Charles from Alton, Hampshire with the 12 year-old bay stallion Romeo 88 owned by Ann Thompson.
Emily Moffitt who is based between Evesham in Worcestershire and Florida, USA with Winning Good, a 12 year-old bay gelding owned by Poden Farms.
Holly Smith from Loughborough, Leicestershire with either Denver XI a 13 year-old bay gelding owned by Ian Dowie or Fruselli an 11 year-old chestnut stallion owned by T J Hall Limited.
Jack Whitaker, from Whatton, Nottinghamshire with either Scenletha an 11 year-old dark bay mare owned by Michael Whitaker or Valmy De La Lande a 12 year-old grey stallion owned by Michael Whitaker.
John Whitaker MBE from Huddersfield, West Yorkshire with Unick Du Francport a 13 year-old bay gelding owned by himself and wife Clare.
The Nations Cup first round takes place on Friday 1st October at 20:00 hrs local time and the final will be on Sunday 3rd October at 15:00 hrs local time. The Chef d'Equipe for the team will be Di Lampard, the World Class Performance Manager for Showjumping.
For further information on the show and full results once the show is underway visit http://www.csiobarcelona.com/.
British Showjumping would like to thank NAF, title sponsors of the Senior Nations Cup Teams along with the Pony, Children, Junior, Young Rider and Veteran teams.
NAF's premium range of Five Star brands include Superflex, Superflex Senior, PROFEET, Optimum, Magic, Oestress and Respirator Boost with quality at the heart of everything they do. They are a UFAS (Universal Feed Assurance Scheme), GMP+ (International Feed Assurance Scheme) and BETA NOPS (Naturally Occuring Prohibited Substances) accredited company and this enables them to guarantee full traceability on all the natural ingredients they utilise in their formulations, which are also selected in compliance with the FEI guidelines for Clean Sport. For further information, visit www.naf-equine.eu/uk/index.jsp.
The GBR showjumping teams are supported by the British Equestrian Federation's World Class Programme, funded by UK Sport through the National Lottery. The Programme focuses on identifying talent, developing potential and maximising medal-winning performances on the world stage.