Ben Walker wins the British Horse Feeds Speedi-Beet HOYS Grade C Qualifier at the Royal Highland Show
Thursday 23 June 2022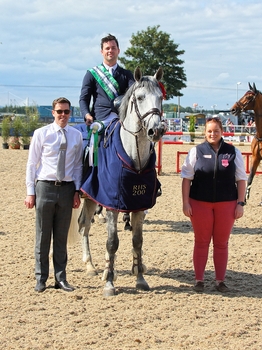 The British Horse Feeds Speedi-Beet HOYS Grade C Qualifiers held at the Royal Highland Show was won by Ben Walker from Harpenden, Hertfordshire riding Gravity, a nine-year-old grey stallion owned by Annabel Mathie.
A starting field of 45 eager combinations came forward to challenge for Horse of the Year Show qualification. With problems coming all throughout the course, only four combinations jumped clear in the first round to return to contest the jump off. It was here that Ben showed true determination and partnership with Gravity to navigate around the tricky jump off to cross the finish line with a double clear in 50.95 seconds, nearly 6 seconds ahead of second place.
Royal Highland Show – Thursday 23rd June 2022
British Horse Feeds Speedi-Beet HOYS Grade C Qualifier
1st Ben Walker & Gravity – 0/0 – 42.75 seconds
2nd Robert Smith & Cassan II – 0/0 – 48.19 seconds
3rd William Walker & Corino Du Rouet – 0/0 – 48.89 seconds
For the full results click here.
For the list of qualified riders so far click here.
NB: Results pending official grading.
Image: Sinclair Photography - https://www.sinclairphotography.co.uk/
Speedi-Beet from British Horse Feeds:
British Horse Feeds, makers of Speedi-Beet, is the equine feed division of I'Anson Bros Limited and is based in Masham, North Yorkshire. British Horse Feeds is best known for its flagship product 'Speedi-Beet' which, thanks to the unique patented process has revolutionized the feeding of beet pulp. Speedi-Beet has improved nutrient availability and soaks in just 10 minutes, compared to 24 hours for sugar beet pellets. It's a great way to add quality fibre to your horse's diet for slow release energy. Fibre-Beet, a formulated blend containing Speedi-Beet and alfalfa has the benefits of Speedi-Beet with extra conditioning. For more information contact British Horse Feeds on 01765 680300 or visit our website on www.britishhorsefeeds.com.