Ben Maher & Explosion victorious in Geneva
Saturday 11 December 2021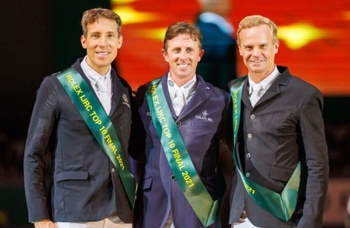 Just months after their Tokyo 2020 Individual Gold medal win Ben Maher (GBR) and Explosion W were back centre stage this evening when the claimed victory in the Rolex IJRC Top 10 Final in Geneva.
Their double clear, one of only two achieved, in a time of 49.57 seconds was enough to secure the lead and edge Henrik von Eckermann (SWE) and King Edward down into 2nd place with their time of 51.16 seconds. Henrik's time had looked unbeatably fast but Ben and Explosion's extremely tight turns whilst covering the ground on a very forward pace saw them manage to shave more than a second off the earlier lead time. With one more combination to come forward in the shape of Jerome Guery (BEL) and Quel Homme de Hus it was a case of having to watch and wait to see whether they had done enough to take the title that had managed to allude Ben to date.
A fence down for Jerome saw them out of the running and Ben secure the highly sought Rolex IJRC Top 10 crown which has only ever been won by Brit once before when Scott Brash lifted it in 2014 on Hello Sanctos. For Scott it was 5th place this evening aboard Hello Jefferson with Kevin Staut (FRA) and Tolede de Mescam Harcour finishing 4th.
There are no words to justify the incredible pairing of Ben and Explosion W, which he jointly owns with Pamela Wright and Charlotte Rossetter, and their phenomenal partnership was clearly illustrated tonight in all its glory. One of only three clear initial rounds, their second round clear had the packed grandstands on their feet in recognition of their talent and needing to let things settle down before the final rider entered the arena.
Explosion W has a huge following in his own right with people travelling to events just so that they can watch him jump. His talent, intelligence and 'can do' attitude accompanied by his playfulness which has often been seen shared on social media has made him a star in his own right and this evening he clearly relished in his achievement.
Ben regularly exudes praise for the 12 year-old Chacco-Blue x Baloubet de Rouet chestnut gelding which he has stated many times that he believes is the best horse he will ever sit on. Talking after their win in Tokyo he said about Explosion W "He's such an intelligent horse, a fun horse to be around and he's a real athlete. He's not a normal horse. I've had many good horses in my career, but I won't rider another one like him again, and that's a big statement." Talking after his round Ben said "Explosion was incredible. I was a bit nervous, but we went as fast as we could. Henry put me under a lot of pressure. This class hasn't been so lucky for me in the past but it's better for me now!"
Full results