Allan Birch wins the SEIB Winter Novice Qualifier at Dean Valley
Monday 19 April 2021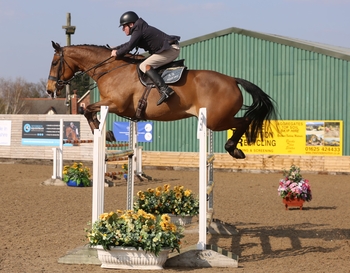 Dean Valley Equestrian Centre played host to the first SEIB Winter Novice Qualifier of the season on Saturday and forty-five combinations came forward to high hopes, but it was Allan Birch who took the win on board Vicky Tennant's Bold Adventure.
Seventeen of the initial starters jumped clear in the first round keeping the pressure on for an exciting jump off. Keeping his cool, Allan guided the 8 year-old mare to a stylish double clear as the pair crossed the finish line in just 36.22 seconds.
Dean Valley EC – Saturday 17th April 2021
SEIB Winter Novice Qualifier Results
1st Allan Birch & Bold Adventure – 0/0 – 36.22 seconds
2nd Ryan Page & Vals Action – 0/0 – 38.50 seconds
3rd Derek Morton & Science Supplements Bp Ko Jax – 0/0 – 40.10 seconds
For the full results, click here and for the list of qualifier riders so far, click here.
NB: Results pending official grading.
Image: Allan Birch & Bold Adventure in action in the SEIB Winter Novice Qualifier at Dean Valley EC [Credit: Al Johnston Photography]
SEIB:
SEIB Insurance Brokers formerly known as South Essex Insurance Brokers are in the top 75 brokers in the country and have been in business for over 50 years. SEIB Insurance Brokers specialise in niche markets and equestrian insurance is a large part of the business. Communication is an important key to the company's success and the ability to talk to people, explain policies and help with problems is regarded as its greatest asset and is the reason they have won many industry awards for customer care. SEIB Insurance Brokers have competitive rates for horse, horsebox, trailer, homes with stables, liability and anything else equestrian. Call for a quote on 01708 850000 or please visit www.seib.co.uk.