Victory for Imogen Yule in the NAF Five Star Silver League Semi Final at Chard Equestrian Centre
Tuesday 02 August 2022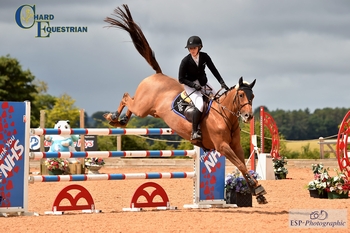 Imogen Yule from Salisbury, Wiltshire was victorious in this week's NAF Five Star Silver League Semi Final held at Chard Equestrian Centre on Sunday, riding Simon Yule's 14 year-old chestnut mare, Blonde Ambition IV.
36 keen combinations set out over Krissy Spiller's 1.15m track, with only a few fences causing problems in the first and second round. 20 riders then came back to contest the final jump off for a place at HOYS. With the pressure on, Imogen kept a level head and piloted Blonde Ambition IV around the course clear and jumped herself into first place by only 0.11 seconds, crossing the finish line in 31.04 seconds.
Chard Equestrian Centre – Sunday 31st July 2022
NAF Five Star Silver League Qualifier
1st Imogen Yule & Blonde Ambition IV – 0/0/0 – 31.04 seconds
2nd Emma Jo Slater & Kimba Flamenco – 0/0/0 – 31.15 seconds
3rd Catherine Housman & Contrichta – 0/0/0 – 31.30 seconds
For the full results click here.
NB: Results pending official grading.
Image: ESP Photographic - https://www.esp-photographic.co.uk/
NAF Five Star:
NAF's premium range of Five Star brands include Superflex, Superflex Senior, PROFEET, Optimum, Magic, Oestress and Respirator Boost with quality at the heart of everything they do. They are a UFAS (Universal Feed Assurance Scheme), GMP+ (International Feed Assurance Scheme) and BETA NOPS (Naturally Occuring Prohibited Substances) accredited company and this enables them to guarantee full traceability on all the natural ingredients they utilise in their formulations, which are also selected in compliance with the FEI guidelines for Clean Sport. For further information, visit www.naf-equine.eu/uk/index.jsp.