Victoria Douglas Jones lifts the first Championship title at the British Showjumping National Amateur and Veteran Championships
Wednesday 15 November 2023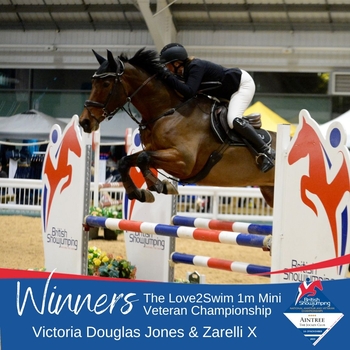 Victoria Douglas Jones capitalised on her late draw to claim victory in the Love2Swim Mini Veteran Championship with her home-bred Zarelli X at the hugely popular British Showjumping National Amateur and Veteran Championships at Aintree International Equestrian Centre.
"It nearly didn't happen. I'm getting older, not so keen on the bad weather and only doing this as a hobby now, not like my younger days with seven horses at a show," said Victoria. "I dropped her down a level this week but really didn't expect to win."
Fifty-three competitors came forward over course-designer Mark McGowan's 1m single-phase track with Jassy Pyke setting a fast target on her HOYS NAF Bronze finalist Bon Amego. And, despite several hot challenges, she stayed ahead – until Victoria entered the ring.
Following a similar route, Victoria took advantage of her 7-year-old mare's huge stride to squeak home just in front with 0.22 seconds in hand. Just as she had at HOYS, Jassy had to settle for second place.
"It was all about the turns. I'd watched Jassy go as she was first to go and it was going to be her or me as there were a lot of tight turn-backs in the jump-off. Katie [aka Zarelli] is 17hh but very easy to turn and I went as tight as I could, the track suited her," said Victoria. "The line to the last was six holding strides so it could have easily been a long five, but I didn't see anyone else taking the risk, so I didn't – and I didn't need to in the end."
Victoria bred this mare – by Holly Smith's multi-winner Fruselli – out of her old grade A mare Zarco.
"She's nothing like her Mum, she was very laidback; Katie is quirky and often in the warm-up, especially at a stay-away show, she'll suddenly stop and spin, almost unseating me. I didn't manage to even canter her until I reached the indoor warm-up with only eight to go as she was ready to bronc outside," said Victoria. "I had originally aimed to jump the 1.20m but glad I dropped her down a level and her long stride covers the ground and definitely helped us win.
"She's my only horse and my daughter Lucy and I broke her in between us and, although she's mainly mine, Lucy will compete her sometimes. I hadn't been in the ring for five years and had more or less given up but as she's home-bred, she's special and the only one bred out of my old mare. Although she can still jump Foxhunter classes as she's only seven, she's almost grade A. I'd like to jump a couple of 1.30m classes with her but mainly do 1.15/1.20m and just enjoy her."
British Showjumping National Amateur and Veterans Championships – 15 November, 2023
Love2Swim 1m Mini Veteran Championship
1st Victoria Douglas-Jones & Zarelli X – 0/0 - 29.59 seconds
2nd Jassy Pyke & Bon Amego – 0/0 - 29.81 seconds
3rd Rachael James & Hagar – 0/0 - 30.10 seconds
Image: Victoria Douglas-Jones & Zarelli X/Majestic Photography