Tabitha Kyle finishes second in the Lamprechtshausen Pony and Junior Grand Prix
Monday 09 May 2022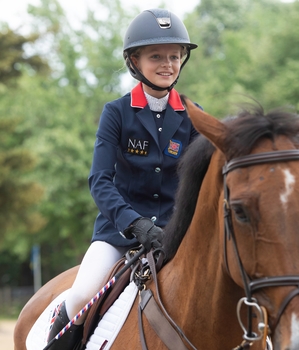 Yesterday, Sunday 8th May, saw the closing day of the CSIO Youth show at Lamprechtschausen and young British rider Tabitha Kyle made sure she ended on a high, taking second place in both the Pony Grand Prix on Gangnam Style and second place in the Junior Grand Prix on Desterly.
Pony Grand Prix
From thirty-eight starters, just nine combinations went clear over the 1.30m track and progressed to the jump off. From a mid-field draw, Tabitha, aged 14 years from Loughborough in Leicestershire and TJ Hall Limited's 13-year-old bay gelding Gangnam Style set a strong pace from the start but an unfortunate lowered pole prevented them from clinching the victory. It was Milan Morssinkhof (NED) and Carrick 13 who took the win with the sole double clear of the class. Full results of the competition can be found here.
Junior Grand Prix
The penultimate class of the day was the Junior Grand Prix which saw a total of 60 starters tackle the 1.40m course which proved to be a difficult one with only one first round clear, resulting in a conclusive winner, for which no jump off was required.
Tabitha Kyle - this time aboard Desterly (a 14-year-old black mare) owned by TJ Hall Limited, were clear jumping but scored just two time penalties in the first round, which was enough to secure them second place and a spot on the podium once again. Petra Parenicova (CZE) and Zeta were the sole clear and took the win. Full results of the competition can be found here.
Catch the FEI livestream here.