Julia Helm makes a winning return to the British Showjumping National Amateur Championships with Helms Rossio
Thursday 16 November 2023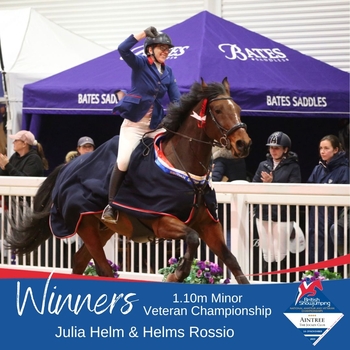 Winner of the National Amateur 1.05m Final in 2022 with Helms Rossio, Julia Helm made a mad dash to Aintree International Equestrian Centre to take the National Minor Veterans Championship.
"It's my first year as an old bird so it was nice to win a Veterans Final," said Julia, who had flown from America to compete in this year's Championships. "I'm a full time IT manager for NFU Mutual Insurance and I was actually supposed to stay in America until Wednesday but they let me fly back early on Tuesday evening."
Reaching Aintree in time was a closely run thing – "The plane was an hour late and we landed at Heathrow at 10am and I legged it up the motorway in a taxi. I wouldn't even let the taxi driver stop for a toilet break – he had to run into the equestrian centre when we got there – and luckily, they were running half an hour late so I just made it in time for my first class," added Julia.
Thirty-two competitors came forward over a 1.10m track with 20 returning for the jump-off. They were no match for Julia and her home-bred Eros 2000 x Fritz Luke 15-year-old and the pair claimed victory by 0.28 seconds, pushing Emily Morris on the speedy Westpoint Foreign Affair into second with Jassy Pyke third aboard Paco Rabanne.
"He jumped lovely in the first round and felt on really good form in the jump-off. I knew I'd have to be quick and I got a good forward rhythm from the off – my Mum said I was almost parallel to the floor on the turn to the last line! The final distance was a forward six strides and that's what I planned and was counting the strides but realised I was too quick and on five so had to pull for an extra one to the last, the planks of shattered dreams. We'd knocked them down the day before but he really helped me out and twiddled his legs over them clear," explained Julia, who leads a very busy life.
Alongside her job, she is mother to a 6-year-old and 2-year-old toddler and has nine horses and a pony at home.
"I'm lucky to have a lot of support; my husband is babysitting for the week and my Mum drove Rossi up the day before so I missed all the high winds and stormy weather," she said.
British Showjumping National Amateur and Veterans Championships, Aintree International Equestrian Centre
National Minor Veterans Championship – 16 November, 2023
1st Julia Helm & Helms Rossio – 0/0 32.63 seconds
2nd Emily Morris & Westpoint Foreign Affair – 0/0 32.91 seconds
3rd Jassy Pyke & Paco Rabanne – 0/0 34.75 seconds
Image: Julia Helm & Helms Rossio/Majestic Photography