Holly Smith eyes up hat-trick after Falcon Stakes win at Windsor Horse Show
Saturday 03 July 2021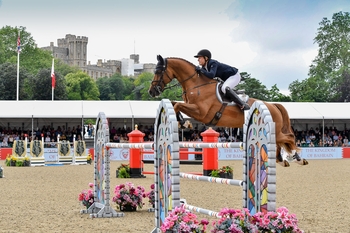 Holly Smith's striking chestnut gelding Fruselli made it two from two taking the CSI5* Falcon Stakes in style, on the back of an impressive win in yesterday's Pearl Stakes. The 1.50m class was run over two rounds, with the top 10 riders from round one going through to a jump-off against the clock. As second to go in the jump-off, Jack Whitaker set the standard, jumping clear in a time of 38.99 seconds, however it was Jessica Springsteen who was the first to pull out all the stops to take the lead in an impressive 36.09 seconds.
Springsteen's lead was short-lived as following her into the famous Castle Arena was Britain's Holly Smith - full of confidence following her Olympic selection - who shaved off valuable seconds, leaving out strides in the distances and making the tightest of turns to come home in an unbeatable time of 34.10. Israel's Daniel Bluman put in a great effort to finish second aboard the 11-year-old gelding Colestina H, just 0.02 seconds faster than Springsteen in eventual third.
Speaking after her victory, Smith was full of praise for her horse: "Fruselli is very willing, very genuine and very forward going, he's just a great type of guy. Once I'd done [jumps] one to two in seven strides instead of eight, I knew I was going to be able to keep galloping at the fences and keep turning and he'd be fine." Holly continued, "It's great to be back here at Windsor, you can tell everyone is so pleased to be here and really enjoying it, it's such a great atmosphere."
AMERICAN FARRINGTON ELATED WITH PARTNER CREEDANCE AFTER WINDSOR 5* WIN
A top-class field contested the day's feature class, The Kingdom of Bahrain Stakes for The King's Cup. Six combinations went through to the jump-off, with World No. 5 Kent Farrington first to go to set the target. Riding the brilliant chestnut gelding Creedance, Farrington posted a fantastic round, making all the moves to finish in a time of 34.72. Ireland's Daniel Coyle followed, also riding a superb round, but his time was no match to that set by Farrington. Several riders incurred penalties trying to catch the time required, including two of Britain's upcoming Olympic team members Ben Maher and Harry Charles. With just Laura Kraut left to go, the title was guaranteed to go to America, however despite her best efforts, she posted a time of 37.83, finishing in third place, behind Daniel Coyle in second.
Following his win, Farrington said: "I'm thrilled with Creedance, he's one of my favourite horses, so much blood, he's naturally fast, he's a real winner and he has been his whole career. It's one of my favourite shows so I'm happy to win here today."
Looking ahead to the Rolex Grand Prix tomorrow, Farrington continued: "It's a world class field, tomorrow's going to be the same, it's always a great competition here and you've got the best of the best. It's big money, with the best riders, with their best horses, it's going to be tough competition and I think the course builder will set the course accordingly, so I think it's going to be difficult and big and fast and not so easy to win."