Harry Charles is crowned the new Stuttgart German Master in an unforgettable day's sport
Saturday 18 November 2023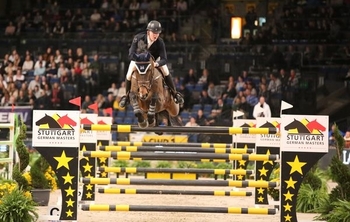 Harry Charles was crowned the Stuttgart Master in Germany on Friday night with the fabulous Aralyn Blue.
Harry had shown his form early in the show with a win and a second place in the two 5* qualifying rounds on Billabong Du Roumois. He switched to Ann Thompson's 12-year-old mare Aralyn Blue (Chacco-Blue x Ludwig AS for the Masters, and it paid off handsomely with a triumphant victory, pushing reigning European champion Steve Guerdat into second spot.
"You don't have many days like these when you can win twice, it was the best show of my life," said the overjoyed 24-year-old, the youngest to etch his name on the Stuttgart German Master roll of honour.
Twelve riders came forward to face a 12-fence 1.55m course and these were halved to six for the final round against the clock, Harry claiming the advantageous final draw as top of the leaderboard in the two qualifying classes.
Switzerland's Steve Guerdat held the lead with almost two seconds in hand on Albfeuhren's Iashin Sitte and seemingly had another win in the bag as Harry entered the ring. But the young Brit maintained his spectacular form to guide Aralyn Blue into a 0.29 second win.
"The Stuttgart Horse Show was my first one to go onto my World Cup schedule and I rode my best horse today because I wanted to win," said Harry.
Second just 24 hours earlier, Harry and Billabong Du Roumois went one better to win the 5* Prize of Iwest earlier in the day.
Forty-two competitors contended this speed class but none of them could match the on-from Harry with the Mylord Carthago/Papillon Rouge 12-year-old as they forged ahead with 2.47 seconds in hand. With the points from Thursday's second place, it put Harry at the top of the leaderboard for the German Masters qualification on 84 points and in the advantageous final draw.
Robert Whitaker jumped Chatondo into third in the 5* 1.45m. Thirty-two riders tackled this speed class with Robert and Caroline Blatchford's Chacco-Blue/Cartoon 13-year-old finishing 1.18 sec behind the winner, Switzerland's Pius Schwizer on AK's Courage.
Image courtesy Stuttgart Media