Harry Charles heads the FEI U25 World Ranking List
Thursday 06 January 2022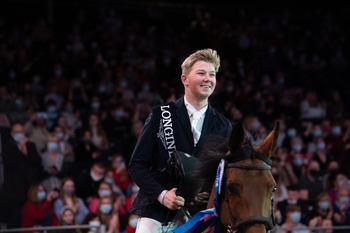 22 year-old Harry Charles from Alton, Hampshire has topped the FEI Longines U25 World Ranking list following his incredible performance at the London International Horse show in December.
The week before Christmas saw Harry see out the year, which had already been a phenomenal one for him having made his Olympic debut at Tokyo, with a win of both the World Cup and the Grand Prix at the CSIO5* International Horse Show. It had been quite an incredible week for Harry at the show held at the ExCel in London and his performance had seen them dominate throughout across an extremely strong international field. Clearly emotional about his success on such a strong global stage Harry had said at the time "Weekends just don't get better than this and what a way to end a year! It's been quite a year, so much cool stuff has happened and I've had so many great opportunities. To finish out the year like this; I just couldn't ask for more than that."
Harry's move into pole position sees him sit on 1913 points having relegated Bryan Balsiger (SUI) into second position on 1805 points. Michael Pender (IRL) moves up into third just two points behind Bryan whilst Sanne Thijssen (NED) secures 4th on 1533 points. The next highest Brit is Jack Whitaker from Nottingham with 1186 in 11th position whilst Emily Moffitt and Lily Attwood also make the top 20 sitting in 14th and 15th place respectively.
This now means that Harry is the 3rd highest placed British rider on the Longines Senior World Ranking behind Tokyo 2020 Individual Gold medal winner Ben Maher and Scott Brash who secure the top two places with Holly Smith sitting in 4th position. The top four British places on the Senior Ranking list is now made up of the quartet that represented Great Britain at the Tokyo Olympic Games. Ben and Explosion W retain their position as the leading combination in Jumping ahead of Martin Fuchs and Clooney 51 with a lead of more than 700 points in hand.
For the full U25 Ranking List click here