GB win Junior European Team Bronze
Thursday 22 July 2021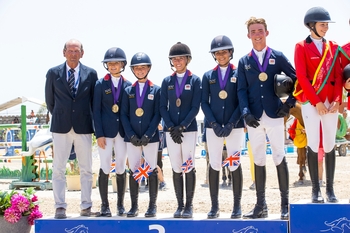 The Junior team representing Great Britain under the title sponsor banner of Team NAF did Great Britain proud today when they took Team Bronze in their respective category at the FEI Youth European Championships today in Vilamoura, Portugal.
Under the guidance of Chef d'Equipe Tony Newbery, competition started on Tuesday for the team of riders and at the end of that first day they sat on just 2.56 penalties and in 3rd place to come forward. Yesterday, Wednesday, saw the riders retain their 3rd position and today's performances saw them secure it to the end to finish with a Bronze medal podium position.
The Teams Riders
The trailblazer for the team was 17 year-old Ava Vernon, from Skegness in Lincolnshire with the 12 year-old bay mare Jolie Fleur van de Noordheuvel owned by Dean Vernon. Ahead of todays competition, the pair were carrying just the impressive 0.39 coefficient penalties from the first day having jumped clear yesterday. Riding with great maturity and accuracy she went on to produce another faultless clear to see nothing to add.
Second rider in was Amelie Gachoud, aged 16 from West Horsley in Surrey, with the 15 year-old bay gelding The Precious One owned by Miranda Gachoud. A great opening round on day one saw them finish on a coeffient of 1.52 but two fences down yesterday and an unfortunate additional three today saw them become the drop score for the team in a competition where only the top three scores are required to be countable.
Claudia Moore, aged 16 from Brentwood in Essex, with the 9 year-old bay mare Hardesther owned by Katrina Moore, posted solid rounds across all three days. A coefficient score of just 12.12 on Day 1 saw them pick up just 5 penalties apiece across yesterday and today to finish on 7.12
Anchor rider this afternoon came in the form of 18 year-old Oliver Fletcher from Faringdon in Oxfordshire with the 9 year-old bay gelding Hello William owned by Lady Kirkham and Lady Harris. An extremely good coefficient of just 0.65 on Day 1 saw them sit in 11th place individually at the end of Tuesday. A touch of a pole yesterday, Day 2, saw them pick up an uncharacteristic 4 penalties. In absolute style with the pressure of knowing a medal was at stake, Oliver pulled everything out the bag this afternoon when he posted a spectacular clear to secure Great Britain the Team Bronze they had been in the running for across the entire competition.
Lila Bremner, aged 17 from Faringdon in Oxfordshire, with the 9 year-old black gelding Memphis V/D Vaart owned by Tessa Bremner makes up the fifth squad member. Their opening day in the squad saw them finish on a coefficient of 3.02. Yesterday and today they have competed as Individuals with just one fence down yesterday and a foot perfect clear to see themselves move up the leader board substantially towards the Individual Final competition.
Individual Competition
The Juniors will jump for their Individual medals on Saturday 24th July, with Ava currently sitting in Silver Medal position on her 0.39 penalties Oliver sits in 6th place on 4.65 with Lila Bremner in 13th and Claudia in 24th across a field of 100 starters.
For further information on the show and full results, visit https://online.equipe.com/en/competitions/42157
British Showjumping would like to thank NAF, title sponsors of the Senior Nations Cup Teams along with the Pony, Children, Junior, Young Rider and Veteran teams.
NAF's premium range of Five Star brands include Superflex, Superflex Senior, PROFEET, Optimum, Magic, Oestress and Respirator Boost with quality at the heart of everything they do. They are a UFAS (Universal Feed Assurance Scheme), GMP+ (International Feed Assurance Scheme) and BETA NOPS (Naturally Occuring Prohibited Substances) accredited company and this enables them to guarantee full traceability on all the natural ingredients they utilise in their formulations, which are also selected in compliance with the FEI guidelines for Clean Sport. For further information, visit www.naf-equine.eu/uk/index.jsp.
The GBR showjumping teams are supported by the British Equestrian Federation's World Class Programme, funded by UK Sport through the National Lottery. The Programme focuses on identifying talent, developing potential and maximising medal-winning performances on the world stage. The teams are further supported by LeMieux, who supply the teams with saddlepads and rugs.