Friday's Fancy Dress Fun in the Fergal Farm Stud Pairs Jumping Challenge
Saturday 18 November 2023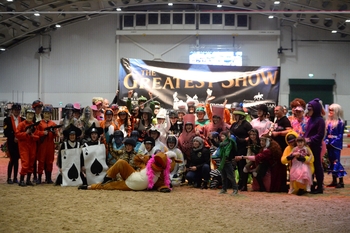 Friday was Funday at the British Showjumping National Amateur and Veterans Championships at Aintree International Equestrian Centre, and the fun, team spirit and camaraderie was evidenced in spades for the evening's entertainment.
Twenty-four pairs teamed up for the thrilling Fergal Farm Stud Pairs Jumping Challenge, riders joining in the Fancy Dress with wholehearted enthusiasm and glee. From Bravehearts to Grease, Robin Hood and the Teletubbies, the dressing up extended to commentators and officials and brought rousing cheers and a smile to many a face. Following the recent film premier, Barbie trended the most – including commentators Alistair Mizon and John Stokes, aka a very fetching Ken and Barbie couple! Although, Ken looked a tad cold standing in the arena for two hours!
The competitiveness still thrived as the riders risked tighter and tighter turns in their focused bid to win in a hotly-contended relay. The winners came from mid-draw as the Kyoshi Warriors, a skilled group of Avatar warriors from the Island of Kyoshi, aka Tim Craggs on Carrickadawson Candy and Lindsey Craggs with Lydia Van Opstee, negotiated every tight turn and angled fence to land the 2023 title.
"It's fantastic, a very good show for everyone and a great venue," said Tim, who is usually Lindsey's biggest rival.
"I'm always trying to beat him on time although the money all goes into the same pot," said Lindsey.
The Black Swan team of Sophie Windsor-Burrell on Kaiser Franz TN and Helen McAll with Ebony BG finished second and The Tornado Tigers (Emma James on Hakuna Matata and Beatric Moss aboard Holexta) claimed third. And all got soaking wet as they vigorously shook the bottles of champagne on the podium to liberally spray each other and any stray officials or commentator who dared to get close.
Preliminary rounds for the Amateur Finals also ran on Friday as Aintree geared up for the weekend of Championships with newly-crowned Minor Veterans Champions Julia Helm and Helms Rossio winning the 1.05m. Georgie Pudge riding Lady's Motion claimed the top spot in the 1.10m and Skye Blu Valderas Yeow headed the mammoth 153-entry 85cm on Ezariosa Z whilst Chelsea Jones won the Synovium Horse Health 1m Challenge on Xavier V.
Image: Majestic Photography