Emily Morris makes dreams come true as she lifts the British Showjumping Major Veterans title with Westpoint Foreign Affair at Aintree International Equestrian Centre
Saturday 18 November 2023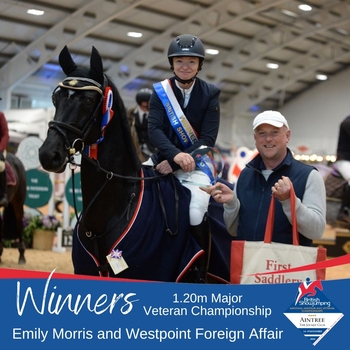 "This is the one I really wanted, we missed out last year," said Emily Morris, after taking the Major Veterans Championship on Westpoint Foreign Affair at the British Showjumping National Amateur and Veterans Championships on the penultimate day at Aintree International Equestrian Centre.
Emily and Foreign Affair won the Minor 1.10m Veterans title in 2022 and finished second in the same class this year. They set their sights on the Veterans title over a 1.20m course, and pulled it out of the bag with a quick, decisive clear.
Six of the original 17 starters posted initial clears to access the jump-off, last year's winner Katherine James claiming two of the rides, including her 2022 champion Herciro Vant Kiezelhof. But it didn't go her way in the jump-off and Emily opted for economical rather than very fast.
"I planned on going as fast as I could but not ridiculously quick, but we got the inside turns to the double and the penultimate oxer and she's careful, I knew I could trust her to the final vertical – I can kick her forward and she backs off," said Emily, who claimed the win by 1.67 seconds.
The 7-year-old Foreign Affair was purchased from Castell Sport Horses as an unbroken 5-year-old.
"She was bred by the Westpoint Stud based near me in Shropshire, and she has been a superstar, she's already taken me to HOYS in the Silver League and won her last year," added Emily. "She's actually a lot smaller than she looks; she holds herself very upright with a lot of presence about her, but in the stable, she's tiny.
"She's growing every time out and gaining more experience and she's so easy to ride, adjustable with a loving, willing nature and loads and loads of jump."
Emily had relied on the advice of Steve Faragher at this show – "He's my lucky charm and I cannot thank him enough; he's booked for HOYS if I'm lucky enough to qualify again!"
Caroline Toombes slipped If Evers Boy into second place and John Shaw with Ulisina II filled third spot.
"I did it!" exclaimed a delighted Jassy Pyke, after securing the Micro Veterans Championship with Paco Rabanne.
After leading all the way, Jassy had to settle for second place in the Mini Veterans title on Bon Amego and finished third in the Minor Veterans Championship with Paco Rabanne – "I've had a really good run for me – and I haven't fallen off!"
Sixty-six competitors qualified for the Micro Veterans title over a 90cm single-phase track with Jassy gaining an advantageous draw just three from the end. She knew what she had to beat and her 9-year-old mare is quick and careful.
"Katherine Davis had led most of the way but I thought I could be quicker back to fence eight and I knew I could trust her to get her legs out of the way in the combination," said Jassy, who skipped ahead to win by 0.48 seconds.
Katherine finished second on Keamore Darco and Sophia Cuthbert on Walty L claimed third.
Jassy has a good record at these Championships: "I've only competed here since I became an old person but I won the Micro Championship with Woodfield Clover in my first year and Bon Amego won the 2020 Major 1.20m title, and I can still hold my own with the younger birds in the amateur classes!"
Jassy, an accomplished engineer in both mechanical and electrical design, bought Paco Rabanne – aka Jezabel – when her previous owner sent her on sales livery to Kim Barzilay – Jassy's best friend and where she liveries her horses at Kimba Farm Stud in Great Missenden, Buckinghamshire.
"I was looking for a horse I could jump in open classes and thought she would suit me. Yes, she's a funny little thing; she sticks her tongue out, windsucks and can be sharp, but I like feisty and a bit of spice, and she certainly keeps me on my toes – she almost got me when she jinked at a fence in the first phase – but she's fun and reliable."
The win almost didn't happen.
"I arrived on Tuesday night with the stables in two inches of water and a river heading towards them. Jezabel doesn't like water at the best of times and she was beside herself. I almost turned round and went home but Anna de Verteuil asked the stable manager if I could move stables to be next door to her and he said, 'Yes'," explained Jassy. "The Aintree organising staff have been tremendous, absolutely amazing. Now I've got to go and find something to wear for the Awards Ball – I wasn't planning to go but Anna has bought me a ticket!"
And it was a good job Cinderella (Jassy) did go to the ball - she was presented with the Leading Rider Award!
British Showjumping National Amateur and Veterans Championships, Aintree International EC
British Showjumping Major Veterans Championship – 18 November, 2023
1st Emily Morris & Westpoint Foreign Affair – 0/0 - 37.06 seconds
2nd Caroline Toombes & If Evers Boy – 0/0 - 38.73 seconds
3rd John Shaw & Ulisina II – 0/4 - 38.07 seconds
90cm Micro Veterans Championship – 18 November, 2023
1st Jassy Pyke & Paco Rabanne – 0/0 - 25.11 seconds
2nd Katherine Davis & Keamore Darco – 0/0 - 25.57 seconds
3rd Sophia Cuthbert & Walty L – 0/0 - 25.84 seconds
Image: Emily Morris & Westpoint Foreign Affair Majestic Photography