Abi Leadbetter flies to victory in the British Showjumping 1.10m National Amateur title on Hearts Cruise at the British Showjumping National Amateur and Veterans Championships
Sunday 19 November 2023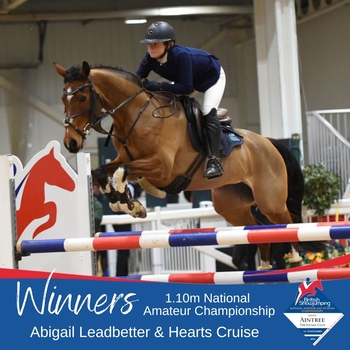 Abi Leadbetter hit top gear to land the British Showjumping 1.10m National Amateur title with Hearts Cruise at the hugely popular British Showjumping National Amateur and Veterans Championships at Aintree International Equestrian Centre.
"She's been incredible and jumping out of her skin the entire week and we were in the 1.05m Final jump-off earlier but I messed up and let her down by adding a stride. I wanted to put it right jumping the 1.10m Final," said Abi, who is based in Darlington, County Durham.
Thirty-six competitors came forward over course-designer Mark McGowan's 10-fence 1.10m track with 12 supplying all the answers to access a thrilling, edge-of-your-seats jump-off with shorter and shorter times recorded as riders dared to cut corners to the max.
Abi and the Corrado G x Heartbreaker 8-year-old mare had already clocked up two wins this week; the Saddles Direct Accumulator with Joker and the Synovium Horse Health 1m Challenge Final. They were seriously out to claim their third win and made it a championship title, winning from mid-draw with 0.74 seconds to spare.
Joanne Earle gave it her best shot in the final draw to slot My Irish Quality Boy into second place, relegating Emily Morris and her newly-crowned Major 1.20m Veteran champion Westpoint Foreign Affair into third.
"I walked the 1.10m course and thought it was less technical than the 1.05m, and when I looked at the jump-off [on the course plan] it suited us. She's only little – 15.1hh – and doesn't have the stride to win at the gallop, but there were some nice rollback turns; I just had to ride her correctly," said Abi.
"She loves Aintree and lights up in the atmosphere and won two qualifiers here last year. She knows where she is as soon as she puts her feet on the walkway, she becomes a bouncing ball."
The feisty mare was purchased as a an inexperienced five-year-old and won the British Novice Final and finished second in the Discovery Final at the British Showjumping National Championships a year later.
"We always knew she was going to be quick and she's perfect for the Bronze League – we like to keep her in her comfort zone and I'm only an amateur; we do this for fun," said Abi. "She's very intelligent and she knows the music as soon as it starts at Aintree; it's her time and she's immediately on her toes. We have such a connection and trust each other completely – it does feel like she speaks to me.
"She's pretty buzzy and sharp and a different horse at home – she spins and spooks at everything, always finding something new to spook at each day and sometimes she'll catch me and have me off!"
Abi works as a groom for Chloe Page.
"She's lovely to work for. She gave me the week off to come to Aintree even though she was going away to Dubai and the other staff will keep things ticking over. Chloe really appreciates us; she's been messaging me all week wishing me luck," added Abi.
Kelly Read secured the British Showjumping 1.05m National Amateur Final on LK Pick N Mix with a tactical round in the jump-off.
"Luckily, I was drawn second last to go but there were only three clears. I knew what I had to do and she's quite quick anyway, so I got the turns in and pushed on in between as she's only got little legs," said Kelly.
Twelve of the 43 starters made their way into the jump-off but Kelly has an established two and a half year partnership with Sophie Szydlowski's 14-year-old skewbald mare Pick N Mix – bred by Hayley Webster – and negotiated the route smoothly and quickly to win by 0.88 seconds.
"She loves the atmosphere, the clapping and the music, she lights up and knows when it is a big occasion; she just loves jumping and gets super-excited," added Kelly.
Katherine McKellar had to settle for second place riding RJM Lucky Lad and Amy Thompson steered Quattro 1 into third.
Kelly is based on the Isle of Wight and spends a lot of her time travelling to shows on the mainland. An Osteopath by profession, Kelly fits her work in around her horses.
"I mostly travel to stay away shows as there is only one British Showjumping show on the island per month and my horses take priority – they are my expensive hobby!
Nicole Greensmith outpaced all rivals to take the British Showjumping 95cm National Amateur Final with Billy Huckleberry.
"There was a lot of pressure to produce a clear in the first round to get into the jump-off and it built up in the jump-off, but once I got over the plank going into the double the pressure eased and I could let the handbrake off," said Nicole.
Fifty-three competitors initially faced the 11-fence 1m course with 24 providing first round clears to go forward into the jump-off. It was all about the clock as the times got progressively quicker as riders dared tighter lines at optimum pace. Nicole capitalised on her advantageous late draw with the British-bred 14-year-old gelding Huckleberry to claim a commanding 1.27 second win.
"We've had a great week and finished third on Wednesday to qualify for the final. The pressure was on in the jump-off but as soon as we had cleared that plank, I went with everything I'd got," added Nicole, 22, who is based in Crook, County Durham.
Huckleberry – aka Huggy – was purchased almost two years ago after Nicole spotted an advert on HorseQuest.
"I was pregnant at the time so we took a gamble and bought him off video. It paid off as we clicked straightaway, we have a great bond and I trust him so much," said Nicole. "He can be very cheeky at home and he keeps me on my toes by spinning round very quickly and decking me sometimes. It's just a little quirk and a trick that he does, but once he's at a show, he performs really well, he knows his job."
Lucy Melchers claimed second place on Ipsodonius with Louisa Timmins only a further 0.01 seconds away for third aboard JJS Pollyanna.
Ffion Hier almost didn't contend the concluding British Showjumping 85cm National Amateur Championship as she and her Mum faced a five-hour journey home to Bridgend, Mid-Glamorgan – but was very glad she changed her mind when she scored a win and lifted the title with NLS Diva Sophia Cool.
Seventy-one contenders bid for victory over the 10-fence course and 33 returned for a sizzling hot jump-off – only 0.24 seconds separating the top three. Ffion's daring demeanour coupled with her 11-year-old mare's 'up for it' attitude proved a lethal combination and they flashed through the finish beams with 0.19 seconds in hand.
"I considered going for a clear but she was up for it and really wanted to win, so I went for it. She's deceptively fast and really covers the ground and she loves the whole atmosphere but I didn't expect to win against all these good riders," said Ffion.
Skye Blu Valderas Yeow had to settle for second place on Ezariosa Z with Lindsey Craggs and Lydia Van Opstee in third.
Ffion and the Colonel Clover x Cavalier Royale mare have been competing together since April 2021 and topped the Summer Bronze League in 2021 and 2022.
"She tries her heart out for me every time and thrives on the adrenalin; she loves the speed and the turns and lights up each time she's loaded onto the box but it was still such an unexpected win," added Ffion, who receives support from Farrier Jarad O'Brien - "It helps enormously with the cost of shoeing."
Ffion and her passionate Red Rum fan Mum Sharon were overwhelmed to learn their mare 'Pippa' was stabled in Red Rum's stable – "We both cried," confessed Ffion.
Ffion was due in work early Monday morning.
"Luckily, a colleague is filling in my shift for me so I don't need to be at work until the evening shift," said Ffion, who is a support worker at a day centre for vulnerable adults – "It's very rewarding and we make their quality of life the best it can be."
British Showjumping National Amateur & Veterans Championships, Aintree International EC
British Showjumping 1.10m National Amateur Final
1st Abigail Leadbetter & Hearts Cruise – 0/0 27.25 seconds
2nd Joanne Earle & My Irish Quality Boy – 0/0 27.99 seconds
3rd Emily Morris & Westpoint Foreign Affair – 0/0 28.98 seconds
British Showjumping 1.05m National Amateur Final – 19 November 2023
1st Kelly Read & Pick N Mix – 0/0 - 34.30 seconds
2nd Katherine McKellar & RJM Lucky Lad – 0/0 - 35.18 seconds
3rd Amy Thompson & Quattro 1 – 0/0 - 36.74 seconds
British Showjumping 95cm National Amateur Final – 19 November, 2023
1st Nicole Greensmith & Billy Huckleberry – 0/0 - 34.07 seconds
2nd Lucy Melchers & Ipsodonius – 0/0 - 35.34 seconds
3rd Louisa Timmins & JJS Pollyanna – 0/0 - 35.35 seconds
British Showjumping 85cm National Amateur Final – 19 November, 2023
1st Ffion Hier & NLS Diva Sophia Cool – 0/0 - 25.01 seconds
2nd Skye Blu Valderas Yeow & Ezariosa Z – 0/0 - 25.20 seconds
3rd Lindsey Craggs & Lydia Van Opstee – 0/0 - 25.25 seconds
Image: Abi Leadbetter & Hearts Cruise/Majestic Photography