A sensational win for Ronnie Jones in the British Horse Feeds Speedi-Beet HOYS Grade C Championship
Sunday 10 October 2021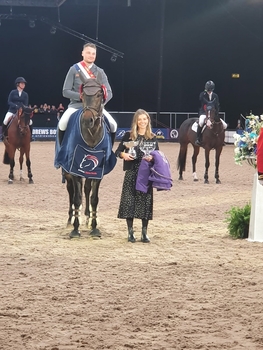 The British Horse Feeds Speedi-Beet HOYS Grade C Championship was the first showjumping class of the day on Sunday at Horse of the Year Show, held at the NEC in Birmingham.
Out of a field of twenty two riders, the 1.40m course proved tricky for some with just seven horses making it through to the jump off. Ronnie Jones lay down the gauntlet with a lightning quick round to set the time to beat of 31.42 seconds riding Ruth Dowie's Interstar B, an 8 year-old dark bay gelding.
Holly Smith hot was hot on Ronnie's heals, taking tight turns to cross the finish line in 32.04 seconds to take the runner up place.
Ronnie from Essex win was even more special as it was his first competition win at the Horse of the Year Show.
Ronnie said after his win "I had some really good people after me, so we had to go all out and see how they were going to get on behind us, so a lot of pressure. He has been a really good horse all year, he has jumped some international classes and we have had him from a young horse. He is really reliable and we know each other really well, we have always had our sights set on this class for him, so we are really pleased.
We've been doing the county shows and seeing these people in the classes and there has been some really good form throughout really, so a really good class. I think it is every riders dream to win here, it's great for the owners and everyone that supports us. We've got a big operation at home and it's great for everyone to be a part of and it's a great show."
Full Results
For more information on ticketing and the timetable at Horse of the Year Show that runs until 10 October at the NEC please visit www.hoys.co.uk
Speedi-Beet from British Horse Feeds:
British Horse Feeds, makers of Speedi-Beet, is the equine feed division of I'Anson Bros Limited and is based in Masham, North Yorkshire. British Horse Feeds is best known for its flagship product 'Speedi-Beet' which, thanks to the unique patented process has revolutionized the feeding of beet pulp. Speedi-Beet has improved nutrient availability and soaks in just 10 minutes, compared to 24 hours for sugar beet pellets. It's a great way to add quality fibre to your horse's diet for slow release energy. Fibre-Beet, a formulated blend containing Speedi-Beet and alfalfa has the benefits of Speedi-Beet with extra conditioning. For more information contact British Horse Feeds on 01765 680300 or visit our website on www.britishhorsefeeds.com.