Mollie Smith takes the Nupafeed Supplements Senior Discovery Second Round at Hartpury University Show
Monday 26 July 2021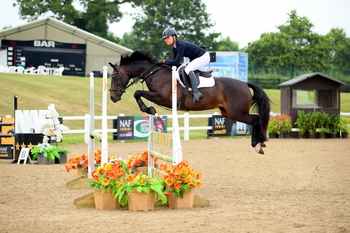 Hartpury University played host to the Nupafeed Supplements Senior Discover Second Round on Sunday, and it was Mollie Smith from Cheddar, Somerset who took home the honours riding her own Church Park Elite.
Over a challenging course, the initial start field of forty-three was whittled down to eighteen strong combinations who all delivered two clear rounds for a place in the final jump off. Mollie went on to steer the seven year-old dark bay mare into the top spot, crossing the finish line in 42.39 seconds.
Hartpury University Show – Sunday 25th July 2021
Nupafeed Supplements Senior Discovery Second Round
1st Mollie Smith & Church Park Elite – 0/0/0 – 42.39 seconds
2nd Kathryn Ellison & Kukevannie – 0/0/0 – 43.46 seconds
3rd Natalie Hodge & Foxdon Lulu – 0/0/0 – 47.49 seconds
For the full results click here
For the list of qualified riders so far, click here.
NB: Results pending official grading.
Image: Mollie Smith & Church Park Elite at Hartpury University Show on Sunday (Credit: Jasmine Punter Photography )
Nupafeed Supplements:
Imported from Germany, Nupafeed supplements combine advanced scientific research with the highest quality ingredients to make their products truly unique. The Nupafeed range includes: the highly acclaimed MAH® Calmer, Flex GLM (Green Lipped Mussel) joint supplement and Staying Power to aid energy, strength and stamina. Used by top professionals, including John Whitaker and Ben Maher, Nupafeed products are permitted for competition and are available by mail order. Nupafeed aims are to ensure an unbeatable quality of product, supplied with friendly and honest advice. The team have experience assisting customers who represent all levels of horse ownership. For more information, visit www.nupafeed.co.uk