Jack Whitaker wins the Longines Christmas Cracker
Saturday 18 December 2021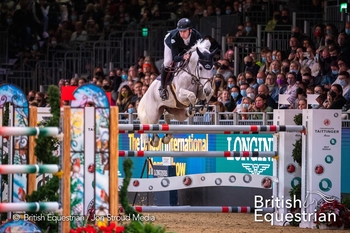 Another Whitaker added their name to the roll of honour at The London International Horse Show this evening when Jack Whitaker, the youngest in the class, and Valmy de la Lande pulled off one of the only two double clears in the 1.55m Longines Christmas Cracker against some of showjumping's most experienced company.
"It's difficult to put into words what this means," explained Jack afterwards. "I've been coming to this show all my life – I've only missed it twice since I was born! I've watched my dad win loads of classes, and everyone else in my family, and it's great to have that under my belt – it's a very big deal for me.
"I saw everyone else knocking jumps down, so I knew that if I could go clear, then I might get lucky. I didn't think I'd win! I thought I'd be third or fourth, maybe second, but I got lucky and it came off.
"Valmy is a proper good horse. He's just a bit difficult to handle in the jump-off like that – when it's all twisty and turny, it's not great for him because he gets sharp, so I couldn't go full-blast today, but it all worked out.
"We've had him since he was six. My dad found him and we bought him with an owner. My dad did all the hard work and I've just got on now and flash it a bit. He was actually third in the World Cup at Olympia one year with my dad."
Their win saw them edge ahead of Noora Forsten (FIN) and con Caya who took second with their clear in a time of 43.50 seconds, almost two full seconds slower than the one posted by Jack. 3rd place went to fellow Brit, Harry Charles and Valkiry de Zance whilst 4th went to Oliver Robert (FRA) and Velvote des Aubiers.
The Global Herbs Snowflake Stakes that had taken place earlier today had seen Martin Fuchs (SUI) take the title ahead of Christian Ahlmann (GER) with Harry Smolders (NED) and Max Kuhner take 4th and 5th respectively. Holly Smith was the highest places Brit with finishing in 6th place with Frusellie an 11 year-old owned by herself and T J Hall Limited.
For full results and further information on the show visit www.londonhorseshow.com
Image: Jack Whitaker, courtesy of Jon Stround/British Equestrian