Ivy Thomas-Cook from Hereford is the latest NAF Shining Star
Thursday 16 November 2023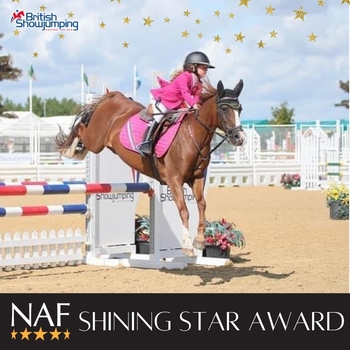 Ivy Thomas-Cook, from Hereford, has been awarded the latest NAF Shining Star accolade. Ivy, a member of the British Showjumping Hereford and Worcester Academy, was nominated for the award by her coach Hannah Jackson.
Seven-year-old Ivy currently has two ponies that she competes: Curly Q, aka Curly, a 15-year-old mare whom Ivy has had for a year and Trenewydd Bold Jack, aka Troy, a 17-year-old gelding who joined Ivy this spring.
Commenting on Curly and Troy, Ivy's mum Leah said: "Troy is a true gentleman and is the sort of soul who would always put everyone else before himself, but Curly is a sass queen and an absolute princess - she always gets her own way.
"When Ivy sat on Curly for the first time was a bit like a learner getting in a Ferrari - but we got there in the end! When we got Troy this spring, he had only ever been a hunting pony so to take pointers from his petite 7-year-old jockey really was quite something."
Following the news that she is the latest recipient of the NAF Shining Star Award, Ivy said: "I absolutely love following the NAF Shining Star awards and reading all the stories – I am so excited to be the next winner."
Talking about her biggest achievement this year, Ivy said it was winning the jump-off for the Under 10 team at the Welsh Home Pony to take the win: "All I wanted to do was win! I want to go fast and leave the poles up and get through the finish timers!"
Ivy has had a rollercoaster of a season. She competed at the British Showjumping National Championships this year where she had the fastest time in both the 128cm Bronze Final and the Stepping Stones Final but sadly had a pole on route. She also rounded off her summer season with Curly Q winning the Pony Bronze League for the West Midlands, not just the 128cm section, but the entire league. Now Ivy is aiming to qualify for Blue Chip Championships and the National Championships again in 2024.
Hannah Jackson, Hereford and Worcester Academy Coach said: "Ivy is a new member to the Area 33 Academy this year and has already made a huge impact. She attends regular training, works hard at home and puts all her training into practice and is now having fantastic results.
"Her determination and drive are paying off as she has had a great and very successful summer season. Ivy strives to be the best she can be and is always wanting to improve. She listens well and really tries to emulate what she does in training in the ring. I'm sure Ivy will have a fantastic winter season and she is already setting her sights on competitions for 2024."
Talking about what it means for Ivy to be a part of the Hereford and Worcester Academy, Leah added: "We love how supportive the Hereford and Worcester Academy is, everybody was willing each other on at the Nationals and it was the best atmosphere. Hannah is always around to lend a hand and give tips to anybody in need which we think is fantastic - we couldn't have asked for a better coach in our area."
Lisa Field from NAF added: "Congratulations Ivy. It is wonderful to see the progress you have made with the help of your Academy and Coach. Ivy's determination and dreams to succeed despite any setbacks that may occur make her a worthy winner of this month's NAF Shining Star Award. We look forward to following you on your journey. Well done, Ivy!"
The NAF Shining Star Award was introduced when NAF became a British Showjumping Business Partner. The award is for members of a Junior Academy who have shown a great deal of commitment, progression, and outstanding behaviour, along with their riding ability and much more. Riders are nominated by their lead coach, and then judged and awarded by NAF to one person each month.
For further information on NAF follow them on Facebook and Instagram for regular updates and rider stories or visit the NAF website at naf-equine.eu/uk
Further information on the British Showjumping Academies can be found here: britishshowjumping.co.uk/training/Academies-1