Emily Moffitt Best of Brits as British Team finish in Europe's Top Ten
Friday 03 September 2021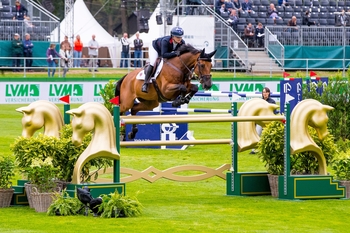 In a thrilling climax to the team competition at the LONGINES FEI Jumping European Championships in Riesenbeck, Germany, Britain's young quartet of Emily Moffitt, Joe Stockdale, Georgia Tame and William Whitaker secured ninth in Europe's toughest company.
Georgia Tame and Z7 Ascot
The final course set by Frank Rothenberger was a true championship test; many fences full up 1.60m, a range of new bright fences, technically demanding lines and it used every inch of the beautiful green grass carpeted arena.
First in once again for Britain was Georgia Tame riding the ten year old stallion Z7 Ascot for Breen Equestrian Ltd, Shane Breen and Team Z7. The powerhouse bay is one of the youngest in the field at ten and certainly low on mileage in competitions of this stature. The duo have jumped well all week and showed improvement each time but today it was just perhaps a round too far.
Fence three was an eye catching doughnut shaped wall and Z7 Ascot came round and decided it was not for him. Georgia kept calm and raised her had to retire. It was a blow for the team but probably best for the horse in the circumstances.
Georgia explained; "He warmed up really well, went in there and was a bit spooky at number one, then jumped two, came round to the wall at three. He's never seen something like that before and he was saying 'no' today. I knew he didn't want to go near it. I should have come again even if I knew he didn't want to jump it, I've learned. I've never been in this situation before and I didn't know what was the best thing to do. Even if he wasn't going to jump it again, I should have tried."
When asked about her first championship experience she said; "I'm really happy with how he's been over the last couple of days. Coming here, I had no expectations, I was just happy with what he has done – a very unlucky four faults in the first round and again yesterday he was really unlucky for one down and just landing on the tape. I've had a great time and learned so much this week, everyone's been really great."
Emily Moffitt and Winning Good
Next up was Emily Moffitt with with Poden Farms and Neil and Heidi Moffitt's Winning Good and this combo has been building towards a good round all week. Frustrated by four faults yesterday but inspired the improvement in Winnie's way of going, she rode determinedly into the ring.
They looked better again with the horse keen as ever but focused on his rider's instructions and they met every fence in stride and cleared each one with inches to spare. It was the clear that the team needed and even more importantly, was a huge boost for Emily's individual standings with faultless rounds proving hard to come by.
An elated Emily said; "Last night I said 'you know what, tomorrow's the day', and it was. I think having that mindset going into it certainly helps and I kept telling myself that today as the day in the warm-up. He felt like he was really turned and focused and listening and really letting me ride. He was a bit aggressive again, which is just him, but he had respect for what I was asking him to do – controlled aggression. I knew from fence one to two when he didn't jerk his head around that we were in the game. I think that aggression is what makes him so good – it gives him that extra edge, that spark."
And how has she found her first Championship experience? "We're pretty experienced together but we've never done a championship and for the next one, I'll have a completely different mindset – I know what to expect, I know what to work on, like the fact that the first day is speed. I think that if that day hadn't gone like it did, the whole weekend would have been more like today, so I know that going into it next time. It's such a complicated and different format throughout the week that you have to do it to really understand it. I went over the rules with Di and I understood it, but it's a different kind of understanding having actually experienced it.
"Rounds like that are what it's all about. I wish we'd had that feeling all week – I know we could have done, but that's what teams are for. We're such an inexperienced team, horses and riders, so to even get through to the final is an accomplishment."
Emily is trained by Olympic Individual Champion Ben Maher and has been for a number of years. What does having him here mean to her? "Having Ben here means I can lean on him when I'm a little bit in no-man's land. It's always helpful having someone you trust and we've been working together for so long now. He helps me ride Winnie and he knows Winnie like the back of his hand – the three of us are so great together, and truthfully I don't think Winnie and I would be the partnership we are today without Ben."
Joe Stockdale and Equine America Cacharel
Another partnership due a faultess performance based on how they've gone this week is Joe Stockdale and Joy Cocklin's Equine America Cacharel. This duo have really earned a new wave of fans this week and as the youngest competitor in the Championship at just 21, Joe certainly has had great support from his fellow riders and the fans around the ground.
The warmed up well with Cash looking ready for business and they started with positive intent but caught the first part of the treble and the C element at fence four. They then added a further four on the out part of the double for a total of 12. It was another round that didn't warrant the score but hopefully there are some learnings to be taken from the three rounds they've completed.
"I think the mare was actually jumping the best that she's jumped all week, certainly in the beginning and I think she's really learned from that. I just made a mistake and it wasn't one of those lines that you could afford to make a mistake on. It was a stupid mistake, the sort I shouldn't be making but hopefully Will can pull out a good round," said a dejected Joe.
He continued; "Cacharel's got better every day, she's learned from the mistakes on previous days and she was better again – the warm-up, the start, in every way. It's really positive.
And the next steps for the duo? "Cash and I will come back from here and she can have a bit of time to recovery. To be honest, I haven't really made a solid plan for her yet, we've got to look forward and set a goal for ourselves, then work back from there."
William Whitaker and Galtur
It's been a lifelong dream realised this week by owner and breeder Philip Tuckwell to have his horse in action here in Riesenbeck and wife Jane, the Event Director at Badminton Horse Trials, has been here as Galtur's number one cheerleader – supported by many on the showground who've been wowed by the handsome grey. Today he and his rider William Whitaker went in as best placed Brits and in contention for a place in the individual final.
They looked on song as they attacked the course but a drift to the left over the fence with wavy planks meant that the Cornet's Stern-sired gelding caught it with his front hoof to lower it. They then had the final fence down, again a round that didn't deserve eight faults, which left them out of the running for an individual final spot.
A disappointed William said; "He actually jumped really well again, it just goes to show what the fine lines – I just didn't quite get my turn how I wanted it, it was a bit jerky round to the plank and he just drifted a little bit, and with it being wavy it catches you out. Then, down the last line, I was um-ing and ah-ing when I walked the course what distance to take down there, but I thought I'd be brave down there and positive, and I was actually thrilled with the way he jumped the oxer and the vertical, but he just got a bit away from he from the last, he got a bit away from me and a bit forward, then had the front bar behind. On the whole, I'm really pleased with him, you've just got to learn from it and keep going.
"All the way round, the course designer's asking you questions right from the beginning – forward distance to the bold wall at fence four, then short to the oxer, then turn back to the water which is bold, then forwards and backwards down that tricky line. You don't get much higher competition than this really – it's a championship and it's what you expect, so you've just got to learn from your mistakes and come back stronger.
William gave his thoughts on the young team's performance over the last few days; "It's where we want to be. We've got some really top riders in our country and we've got be brave and positive and give them the support, and we've got this younger crop of riders and combinations that we need to bring through, and I think this championship's been a fantastic opportunity for that. I'm glad that Di's said positive things because there's a positive feeling in camp. Although we maybe haven't had the results and the rounds and clears that we'd have liked, you've just got to take the positives and move on to the next competition. Di's fantastic, she supports us all the way, not just here but in the run-up and after, so I'd to thank her very much for that."
And the next steps for the combination; "Galtur is quite a sensitive horse, especially somewhere like this where there's a hundred people round the entrance and you've got to fight your way to get in the ring – he's never experienced anything like this before. He's quite sensitive in the warm-up and there are 25 people around a jump – it's all things that he needs to learn. It does take time to absorb it and be able to go in and execute our plan in there. What I'll do when I get back is rewatch my rounds and figure it out. I've had the same problem in several rounds – turning back to the plank and not getting the turn I wanted, so that's certainly one thing I'll take home to practice. What I'll do is try to recreate the problems that I've had here at home, I'll rewatch all the videos, have a chat with Di, get everyone's opinions, then keep practicing," he explained.
It was a total score of 53.18 for Great Britain which left them ninth overall. To achieve a top ten placing for this young, inexperienced team is a significant achievement. The average rider age is just 24.75, the average horse age is 10.75 – all up against some of Europe's greatest riders and horses. It was a brave decision but has paved the way for the future and given four combinations valuable experience to take forward and write the next chapter.
Emily and Winning Good finished the day best of the British in 22nd day on 12.12 faults so qualify for Sunday's Individual Final. William and Galtur were next best in 33rd on 17.06 with Joe and Equine America Cacharel just behind in 43rd on 24 faults.
In an exciting finale for the best few teams, the honours went to Switzerland who added just four faults to their overnight total for gold with hosts Germany in second and Belgium completing the podium.
For information on how to follow, go to our Riesenbeck European Championship page.