Don't miss the action: The London International Horse Show announces live TV and streaming schedule
Tuesday 07 December 2021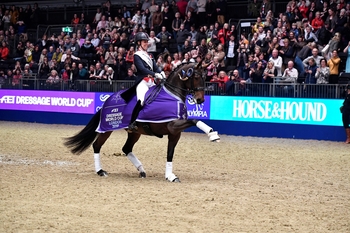 New broadcast deal with BBC also agreed
The London International Horse Show today announced its TV broadcast and online streaming schedule which will be seen by both national and international audiences. High worldwide viewing demand is anticipated for the popular Christmas Show which continues to be the most watched indoor equestrian event in the UK.
Show Director, Simon-Brooks Ward said: "We are delighted to confirm that the BBC will continue to broadcast the Show and we are very pleased to have signed a new multi-year agreement with them. Over our 49 years, the BBC coverage has provided a very important platform for both the London International Horse Show and equestrian sport as a whole.
"We are also very pleased to be able to offer our international audiences more coverage than ever before through FEI TV and our new streaming partnership with Horse & Country TV.
"This year's competition is shaping up to be better than ever and the increased opportunity to view the London International Horse Show will allow fans from around the world to follow their Olympic stars, including Ben Maher MBE and Charlotte Dujardin CBE, in our new home at ExCeL London."
Live Coverage
In the UK the BBC will be showing more than 16 hours of live coverage on BBC Two and on their BBC digital platforms including the red button. The coverage includes The Lemieux Puissance on the evening of Thursday 16 December, the FEI Dressage World Cup™ (Freestyle) on Friday 17 December, all of the Saturday evening programme which includes the FEI Driving World Cup™, The Longines FEI Jumping World Cup™ on Sunday 19 December and all of the evening programme, including the London International Grand Prix, on Monday 20 December.

In the UK H&C+ subscribers will be able to view all classes and entertainment not broadcast by the BBC.

For those wanting to watch live from outside the UK:

All FEI World Cup Classes can be viewed internationally on FEI TV.

Horse & Country TV subscribers to H&C+ worldwide will be able to view all classes and content with the exception of the FEI World Cup classes.

Post-Show Coverage

All BBC programmes will be available on BBC iPlayer.

Horse & Country TV will have London International Horse Show classes and entertainment available for its H&C+ subscribers.
Easy to view, 'Where can I Watch It?' timetable downloadable as a PDF on the London International website: here