CHI Royal Windsor Horse Show Daily Report - 13th May
Friday 13 May 2022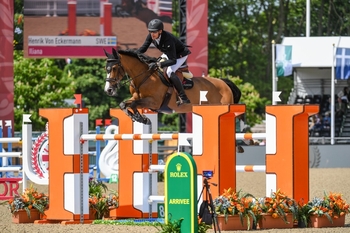 The CSI5* Showjumpingand CAIO4* Land Rover International Driving got underway on day two of Royal Windsor Horse Show, with the world's best horse and rider combinations in action. Elsewhere, Her Majesty The Queen was in attendance to watch her beloved Fell Pony, Balmoral Leia, being crowned The Horse & Hound Mountain and Moorland Supreme In-Hand Champion and the Jack Wetzel Coaching Marathon provided a spectacle as they headed down the Long Walk.
World's Best Showjumpers Return To Castle Arena
The opening CSI5* class of the Show, a two-phase competition, went to 2020 Olympic team gold medalist Henrik von Eckermann. Guy Williams took the early lead aboard Rouge de Ravel, making all the turns to set a time to beat of 25.66 and giving the crowd something to cheer about. For much of the class, it looked like Williams was going to bring home a British victory, however Christian Ahlmann riding Calvino 16 rode a masterful second phase against the clock to take the lead. With just four to go, von Eckermann, partnering the nine-year-old mare Iliana, jumped a flawless round to shave 0.04 seconds of Ahlmann's time to secure the victory.
The feature class of the day, The Pearl Stakes, was a 1.55m jump-off class featuring some of the best horses and riders in the world. Of the 13 combinations going through to the second round, 10 were former World No. 1s. Daniel Deusser set the pace as third to go, with the first double clear in a time of 36.32. Bernardo Costa Cabral's course proved challenging, with many riders accruing faults when trying to catch Deusser. Jos Velooy came closest with Luciano van het Geinsteinde, posting a time of 37.46. John Whitaker showed his experience to go into third with just two left to go, however no-one was able to match Deusser's performance, leaving the German to take the spoils.
Speaking after the class, Deusser said: "Royal Windsor Horse Show is a fantastic event, it is a great feeling to be standing here as the winner in front of such a big crowd and with Windsor Castle in the background. Bingo Ste Hermelle is a small and nimble horse, so I can go very fast in the jump-off. I will give him tomorrow off in preparation for the Rolex Grand Prix on Sunday. I think if I make it to the jump-off on Sunday then we have a very good chance of winning!"