Ben Maher stars in new episode of "Daisy Dines With", exclusively on Horse & Country's streaming service, H&C+
Wednesday 19 January 2022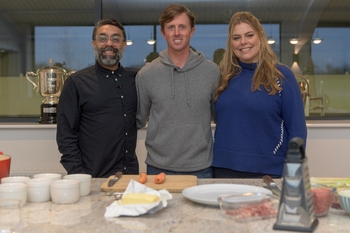 Daisy Dines With is one of the most popular shows on H&C, regularly offering unique insights into the life and times of legends of the equestrian world. The latest episode, featuring Olympic showjumping superstar Ben Maher, is no exception. In a wide-ranging interview with presenter Daisy Bunn, Ben shares never before heard details of his victory with Explosion W in Tokyo, and what it's like to be drug-tested at your own wedding!
In a break with the normal format of the show, Ben acknowledges that he doesn't spend a huge amount of time in the kitchen. So rather than Ben cooking for Daisy, Daisy and Ben work together to whip up Ben's favourite meal of spaghetti bolognese followed by chocolate fondant. They're joined in the enterprise by Daisy's husband Pravin, who keeps things moving along while Daisy talks to Ben in one of the longest, wide-ranging, and revealing interviews he's ever given.
Ben recounts his early days, coming from a not particularly horsey background but nevertheless knowing from the age of thirteen that riding was going to be his future. But it wasn't all plain sailing from there. Ben reveals that, prior to the Beijing Olympics, he was thinking of quitting and even took another job, outside of the industry. Fortunately that only served to remind him of how much he loved riding, and, shortly afterwards he achieved his dream of going to the Olympics as the youngest member of the team.
Dasiy and Ben go on to talk about Tokyo and Ben's victory with Explosion W. Daisy is astonished to hear that Ben needs a stepladder to get on Explosion, while groom Cormac Kenny distracts him with food, otherwise he'll run off.
Back in the kitchen Pravin's got the spaghetti bolognese ready to go and the three of them sit down to eat. Daisy points out that the Olympics wasn't the only high point in Ben's 2021, with his marriage to Sophie taking place two weeks after. Ben reveals that, during the reception drinks, an unexpected guest arrived, a drug-tester to take a sample from him. Rules are rules so Ben slipped away without disrupting proceedings, but he did work it into his speech later on.
Daisy Dines With Ben Maher is available on H&C+ from Thursday January 20th. Members can watch online or with H&C's mobile apps, as well as on Roku, Apple TV, Android TV, and Amazon Fire. Membership is just £5.99 per month and full details on how to join can be found at www.horseandcountry.tv.