Anna Power claims the Equitop® Senior Newcomers Second Round at Wellington Riding Centre
Saturday 18 June 2022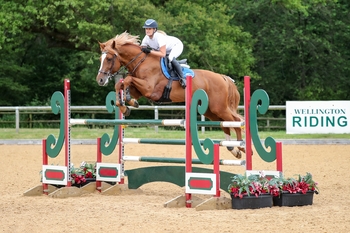 Wellington Riding Centre played host to this week's Equitop® Senior Newcomers Second Round on Saturday, and it was Anna Power who claimed the win on board her own and Bina Ford's 8 year-old chestnut stallion, Oxford V/D Witte Driesensijk.
From a large starting field of 95, Anna from Clevedon, Avon kept a cool head to make it through to the final jump off along with eight other focused combinations. Jumping 1 of only 2 triple clears, a lightning-fast final jump off secured this combination the win, crossing the finish line in 43.28 seconds.
Morris Equestrian Centre – Saturday 11th June 2022
Equitop® Senior Newcomers Second Round
1st Anna Power & Oxford V/D Witte Driesensijk - 0/0/0 – 43.28 seconds
2nd Hollie Pearce & James O Hara H – 0/0/0 – 44.72 seconds
3rd Holly Smith & Lorenzo VII – 0/0/4 – 38.99 seconds

For the full results click here
For the list of qualified riders so far, click here.
NB: Results pending official grading.
Image:
Equitop® products:
Combining natural ingredients with pharmaceutical-standard manufacturing techniques, each product within the Equitop® range has deliberately been created to provide the horse with the highest quality ingredients to supplement their diet and lifestyle. Scientifically based to support your horse's gastric health, joint health and lean muscle development, there are 3 products within the Equitop® range of products: Equitop® GLME, Equitop® Myoplast and Equitop® Pronutrin. To find out more about these products, please visit www.equitop.co.uk/.
Follow Equitop® on Facebook and find out more on the Equitop website.