Sunday, May 20, 2018
News
Team LeMieux Ponies top the table in Lamprechtshausen
Sunday 20 May 2018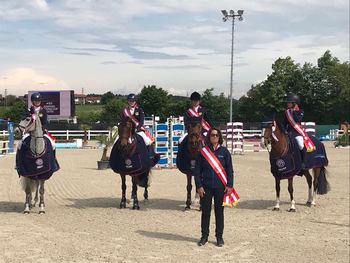 The Union Flag was aloft once again in Lamprechtshausen, Austria this afternoon when the Team LeMieux Ponies won their respective Nations Cup in convincing style.
In the Austrian sunshine at the Sportridingclub Lamprechtshausen, the British riders and ponies bagged five clears across their eight rounds to take the win on a total of 4 penalties. In second were the Italians on 12 penalties whilst the Germans took third on 22 penalties.
Shaunie Greig, aged 15, from Dunfermline, Fife delivered the perfect start with Casino Royale, a 15 year-old bay gelding owned by Anne Greig. As the first in for the Brits, Shaunie would have given the other riders great confidence as she rode her two rounds with fluency and precision and in doing so, put a double clear performance onto the board.
Following Shaunie was 15 year-old Tahnia Jordan Jones from Swindon, Wiltshire with Jumper, a 12 year-old grey gelding owned by Julie Jordan. Tahnia and the aptly named Jumper also posted a superb double clear and tackled today's course in style.
The third rider in Great Britain was 13 year-old Claudia Moore from Brentwood, Essex on Elando Van De Roshoeve, a 14 year-old bay gelding owned by Katrina Moore. Claudia finished with 4 penalties in round one and 10 penalties in round two.
Last in was Nicole Lockhead Anderson, aged 16, from Banchory, Aberdeenshire with the 9 year-old bay gelding Gangnam Style II owned by Claire Lockhead. This combination picked up 4 penalties in their first round but set off into their second round determined to secure a clear and they did just that to ensure a win for GB.
The Pony Grand Prix takes place on Monday 21st May. The Chef d'Equipe accompanying the squad is Clare Whitaker.
For further information on the show and full results, visit www.horsedeluxe.at.
British Showjumping would like to thank LeMieux, title sponsors of the Pony teams.
LeMieux is now established as the leading manufacturer of saddle pads in the UK and one of the fastest growing equestrian brands in Europe. The latest range of jumping pads has been developed with Scott Brash to precisely fit the cut of modern jumping saddles. The LeMieux product offering for horses extends beyond saddle pads to boots, bandages, fly hoods, headcollars and rugs - widely available through most good retailers or online at www.horsehealth.co.uk.
The GBR showjumping teams are supported by the British Equestrian Federation's World Class Programme, funded by UK Sport through the National Lottery. The Programme focuses on identifying talent, developing potential and maximising medal-winning performances on the world stage.