Friday, February 23, 2018
News
Timetable & Ticket information released for Horse of the Year Show 2018
Friday 23 February 2018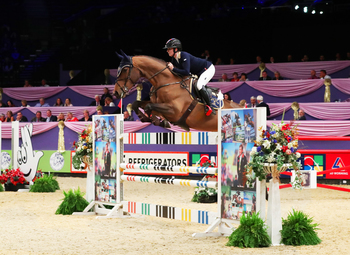 Horse of the Year Show is proud to be celebrating its 70th birthday this year, Wednesday 3rd – Sunday 7th October 2018 at Birmingham's NEC Genting Arena. With a full line up of National Showing and Showjumping Championships, International Showjumping classes, Pony Club Mounted Games Prince Philip Cup Final, Osborne Refrigerators Double Harness Scurry Racing and our Dressage Masterclass on the Thursday – there really is something for everyone! In addition, to celebrate our 70th Anniversary, we also have double the amount of entertainment displays which will take place each day in the Andrews Bowen International Arena, one of which includes The Household Cavalry Mounted Regiment Musical Ride. More information on the displays will be announced soon.
Timetable - the timetable for the show is now live and available to view here: www.hoys.co.uk/timetable . We recommend that everyone checks the timetable carefully before deciding which day is best for them to attend as the performances vary each day.
General tickets - tickets for the Show start from just £34.00 for a full day ticket Wednesday, Thursday and Friday. Saturday and Sunday are split into daytime and evening performances, however, both options provide full day access to the Retail Village. For more information on general tickets, visit: http://hoys.co.uk/tickets/general-tickets/
Packages - there are great savings to be had with the NEW Platinum Jubilee Package. The Platinum Jubilee Package is effectively an ALL DAY Sunday ticket package which offers a Sunday daytime ticket priced at the usual rate, plus a Sunday evening ticket for just £20, regardless of the ticket band. Which means that you can save up to 34% on an evening Premium Ringside ticket!
The M&M Spectacular Ticket Package will once again be available. Designed for two people, the package includes two tickets to the show on Wednesday 3rd and Thursday 4th October as well as an overnight stay in either a double or twin room in the Arden Hotel on the Wednesday night. For more information on packages, visit: http://hoys.co.uk/tickets/packages/
Season tickets are a great way to make sure you don't miss out on any of the live HOYS action as it covers you for the full 5 days, giving you unlimited access to the Andrews Bowen International Arena with an allocated seat for the duration of the week, daily entry to the TopSpec Arena public seating along with full access to the HOYS Retail Village. With a season ticket you can save up to £102! For more information on packages, visit: http://hoys.co.uk/tickets/season-tickets/
Hospitality - if it is fine dining or panoramic views that you are after then our Ringside Hospitality or Champions Bar offerings may be more what you are looking for. With our elegant tiered suite, Horse of the Year Show offers a perfectly-refined hospitality ringside dining experience. For more information on hospitality, visit: http://hoys.co.uk/tickets/hospitality/
But if you'd prefer a more relaxed and sociable way to enjoy Horse of the Year Show, why not make use of the exclusive Champions Bar? The Champions Bar is the perfect area for networking or simply relaxing while enjoying fantastic panoramic views of the Andrews Bowen International Arena. For information on Champions Bar, visit: http://hoys.co.uk/tickets/champions-bar/
Accommodation - Booking accommodation for your trip to HOYS could not be easier with our special rates on nearby hotels. Our onsite hotel liaison takes care of every detail during your stay, all you need to do is choose which hotel! For information on hotels for HOYS 2018, visit: http://hoys.co.uk/tickets/hotels/