Friday, May 24, 2013
Para News and Updates
British Showjumping Para-Showjumping Team La Baule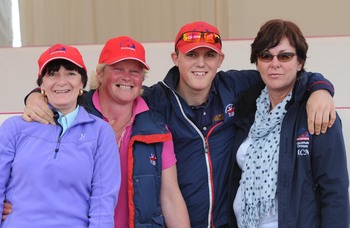 Competing for the fourth year at the FEI 5* International Show at La Baule in France, the British Para-Showjumping riders, which were three strong, secured solid placings in their respective classes.
Highest placed in his Grade was Toby Bevins from Wiltshire with his own Askan Van Overis, a chestnut 12-year-old gelding which Toby has been competing since 2009. Competing in a 1.10m class which is a higher level of competition than he is eligible to compete in, Toby produced a great round to slot in just behind the home nation winner Cindy Duval.
Karen Bostock from Huddersfield, West Yorkshire, who again jumped a higher level than her grade, competed in a 90cm class with Rossini IV a 10-year-old chestnut gelding. Coming 4th having jumped a clear but unfortunately picking up one time fault, Karen was pleased with their performance, especially when she secured another 4thplacing with her new horse Zelmodiella, an 8-year-old grey mare she was competing for the first time.
Cheshire based Karen Law's performance and subsequent 4th placing was particularly notable in her specialist class for the visually impaired. Competing Rossini, as she doesn't have her own horse, she was given a lead by leading international British rider Peter Charles who was loaned Askan Van Overis by Toby Bevins as a lead horse.
Chef d'Equipe for the show was Anne Newbery who commented afterwards "The squad here have been exceptional and it's a great opportunity for us to come out and experience competition at an event such as this. I am thrilled with all of their performances and in particular Karen Law's who is an inspiration to everyone bearing in mind that she doesn't own her horse, the level of her disability and her commitment to achieve".

British Showjumping are working in partnership with Riding for the Disabled to introduce Para-Showjumping into the sport's National Governing Body. For further information, please call Rebecca Turner on 02476 698828.