Junior Academy Championships 2019
Tuesday 20 August 2019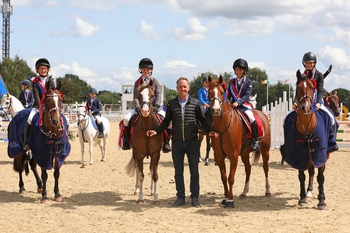 The hugely popular Inter Academy show at Stoneleigh witnessed great jumping, team spirit and camaraderie throughout a busy two days.
It was all about the clock as eight of a mammoth 33 teams posted zero scores after two rounds in the Midi Teams competition with Teenage Fanclub taking the win with just 1.64 seconds in hand.
All four of the Teenage Fanclub posted first round clears with Katy McFadyen on Hawkmoon Lady Luck, Emma Scott-Watson with Swaniestons Simply Red and Crista Lockhead Anderson riding Little Red Cloud all completing round two with a penalty-free score while anchor Pebbles Walker and Peanut IV made just one error for four faults.
The last-drawn Norfolk Rocks finished second. Rosie Walker on Aldo De Brias and Jessica Cunnington with Cuffs Town Bosco both posted double clears while pathfinder Chloe Ancill on Priceless B jumped clear in round one and came home with 12 second time out and anchor Jemima Cooper and Ardenteggle Might improved on their round one four faults with a clear in round two.
The Hampshire Daisies' Eleanor Smith with Granstown Fear Bui claimed first in the individual competition with Paige Newton and Ulyss Keziah in second and third was awarded to Izzy Cross on Popper Rocket.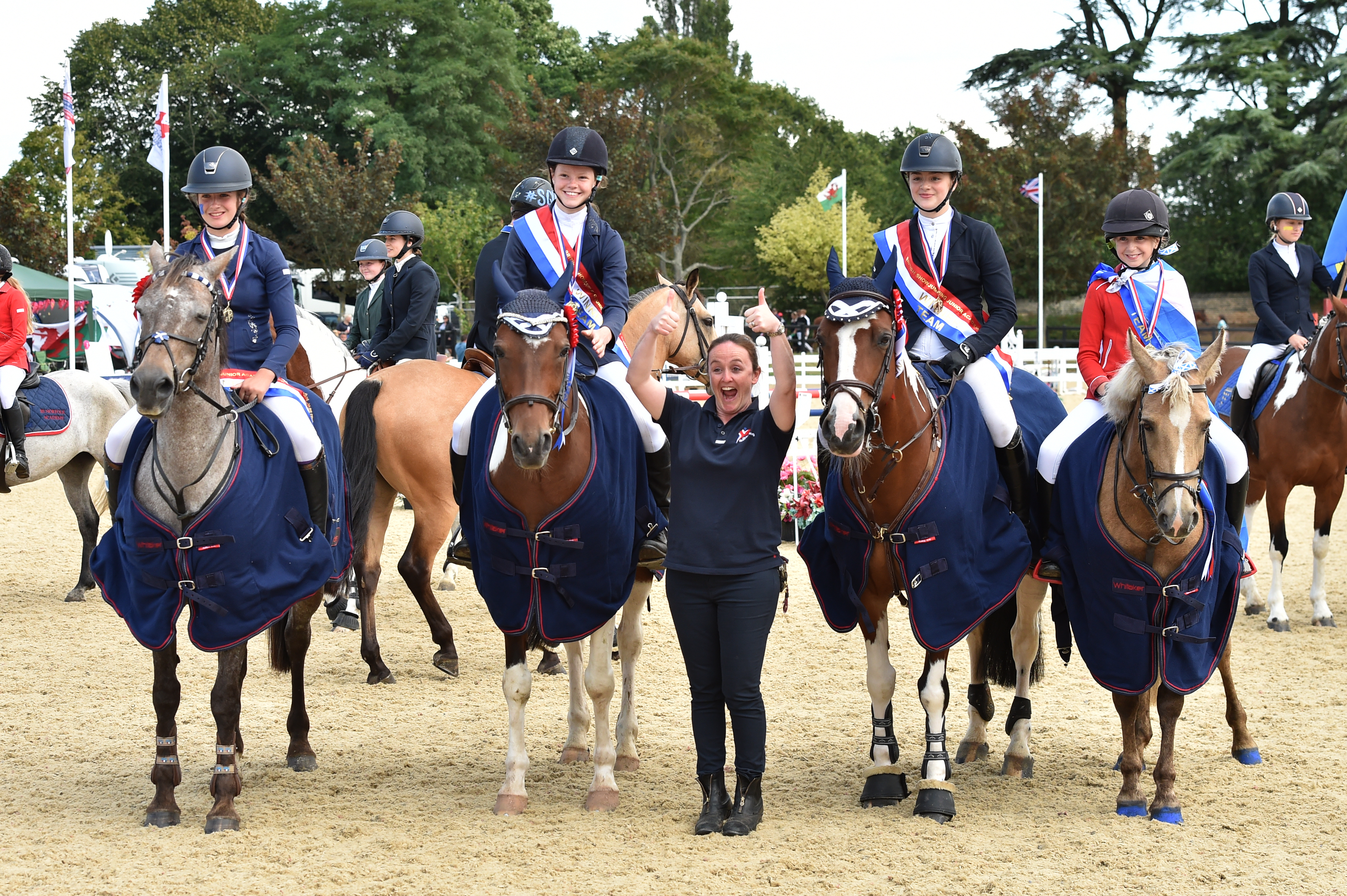 Midi Team Winners: Teenage Fanclub with Scotland's Regional Development Officer Lucy Moss [1st Class Images]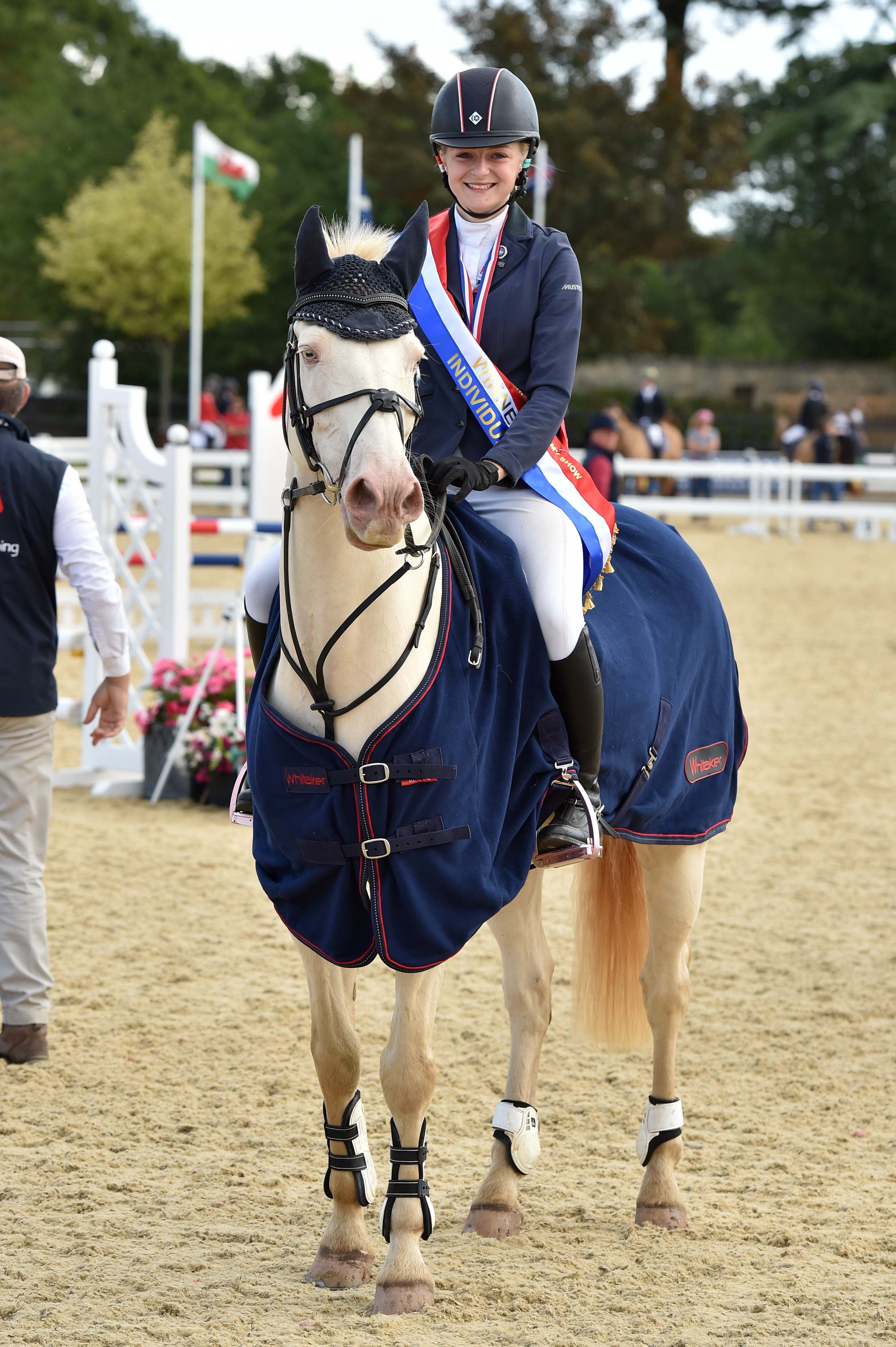 Midi Individual Winner: Eleanor Smith & Granstown Fear Bui [1st Class Images]
The Mini Teams excelled with six teams returning a zero score in a 32-team competition and underscoring their star status, the first and second placed teams all jumped double clear.
The Dyfed Minis stepped up to the plate to triumph with only 0.66 seconds to spare over the two rounds. All four partnerships – Will Hoyland on Cloigen Fiddle, Tirion Yate and Howel Judy, Caleb Canton aboard Janpete Mr Cool and Josie Dummett riding Her Shadow – posted magnificent double clears.
The Sussex Mini Robins followed suit with foot-perfect clear rounds – Bella Crowley on Silver Star II, Max Whittington and Dybeck Wild Lupin, Lauren Wilkins riding Stormin Norman and Ralph Birkby with Eliza Day.
The Suffolk Harriers' Keira Bromley took the top spot in the individual minis with half a second to spare on Boharquil Briar Rose. The Red Hot Chilli Peppers' Rory McFadyen rode Misty Meg into second with Arabella Lines from the Warwickshire Mini Red on Corban Josie in third.
Mini Team Winners: Dyfed Minis with Shane Breen [1st Class Images]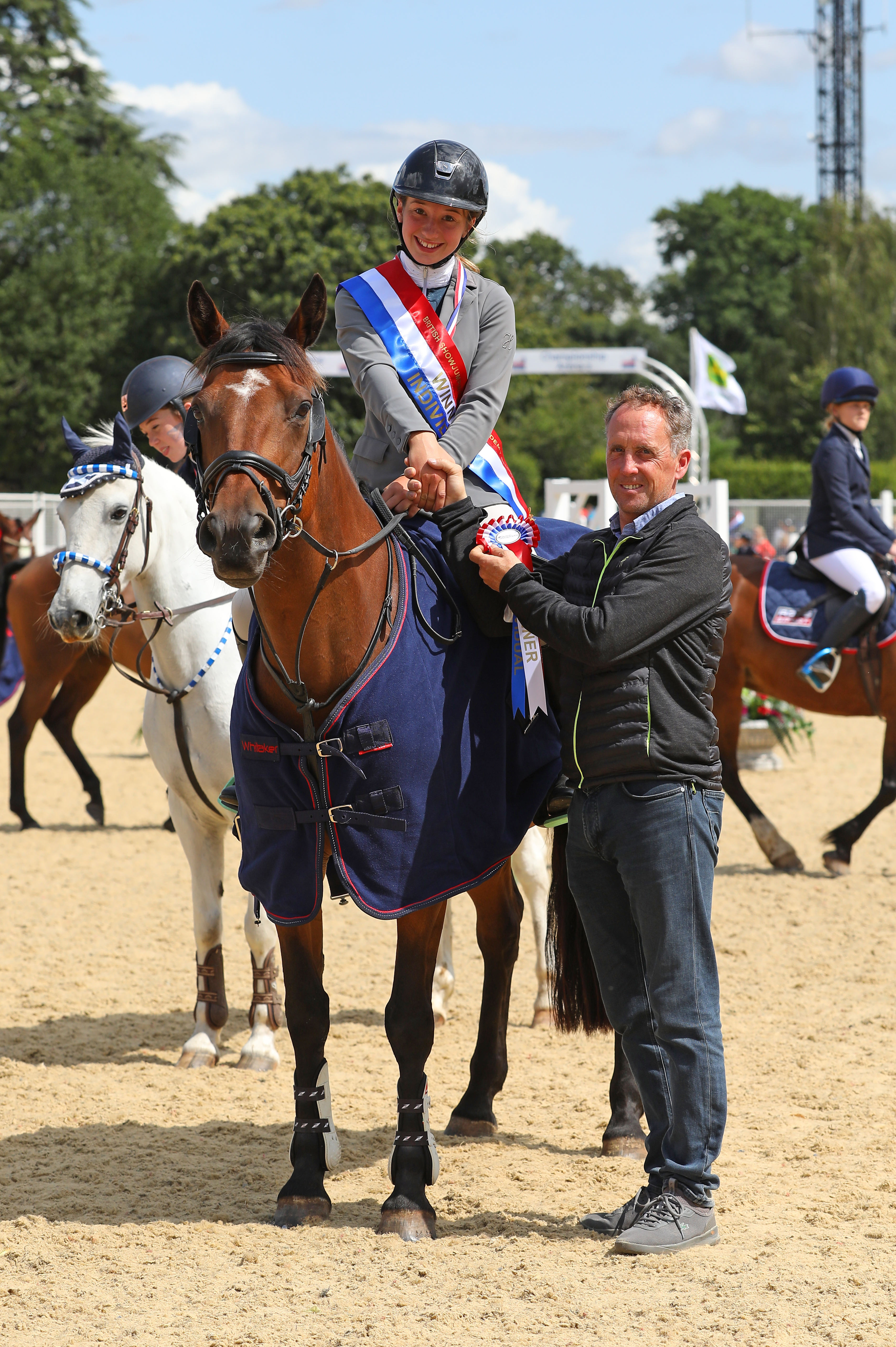 Mini Individual Winner: Keira Bromley & Boharquil Briar Rose with Shane Breen [1st Class Images]
The Sussex team claimed victory in the Maxi teams in a competition between 12 teams. They claimed a fence in hand over the Scrambled Legs at the halfway stage but it was evened up after round two with both touting a score of 12 and again, it was all on time.
Sophie Moss jumped clear on Cranford Jack first time out but came home on four in round two. Elena Watson and Lyra returned four and eight faults with Grace Gilbert and Park Mr Smart on eight and an unfortunate elimination following a fall. India Piper Dadswell dismissed any pressure and fully justified her anchor position to provide a double clear on Amelia V to land victory for Sussex.
The Scrambled Legs team of Bethany Garwood on Park Chanel posted a great double clear in the pathfinder position, Sophie Evans and Monty XX returned eight and four, Ellie Evans with Dyssryntanat Intrepid Bilbo came home on clear and 12 and Aly Getley with Red Hot Chilli Pepper improved on their round one score of eight with a clear for second place.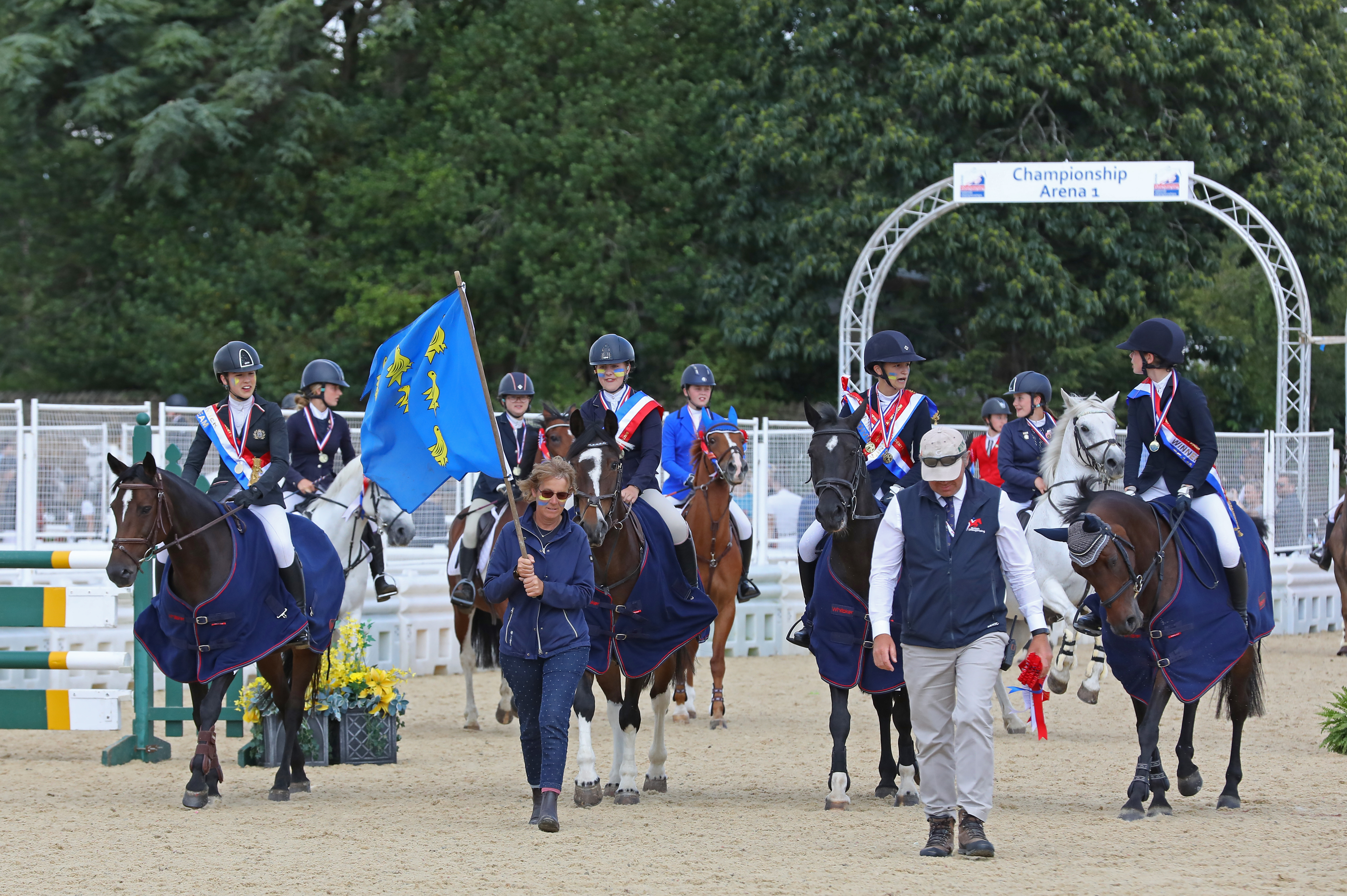 Maxi Team Winners: Team Sussex [1st Class Images]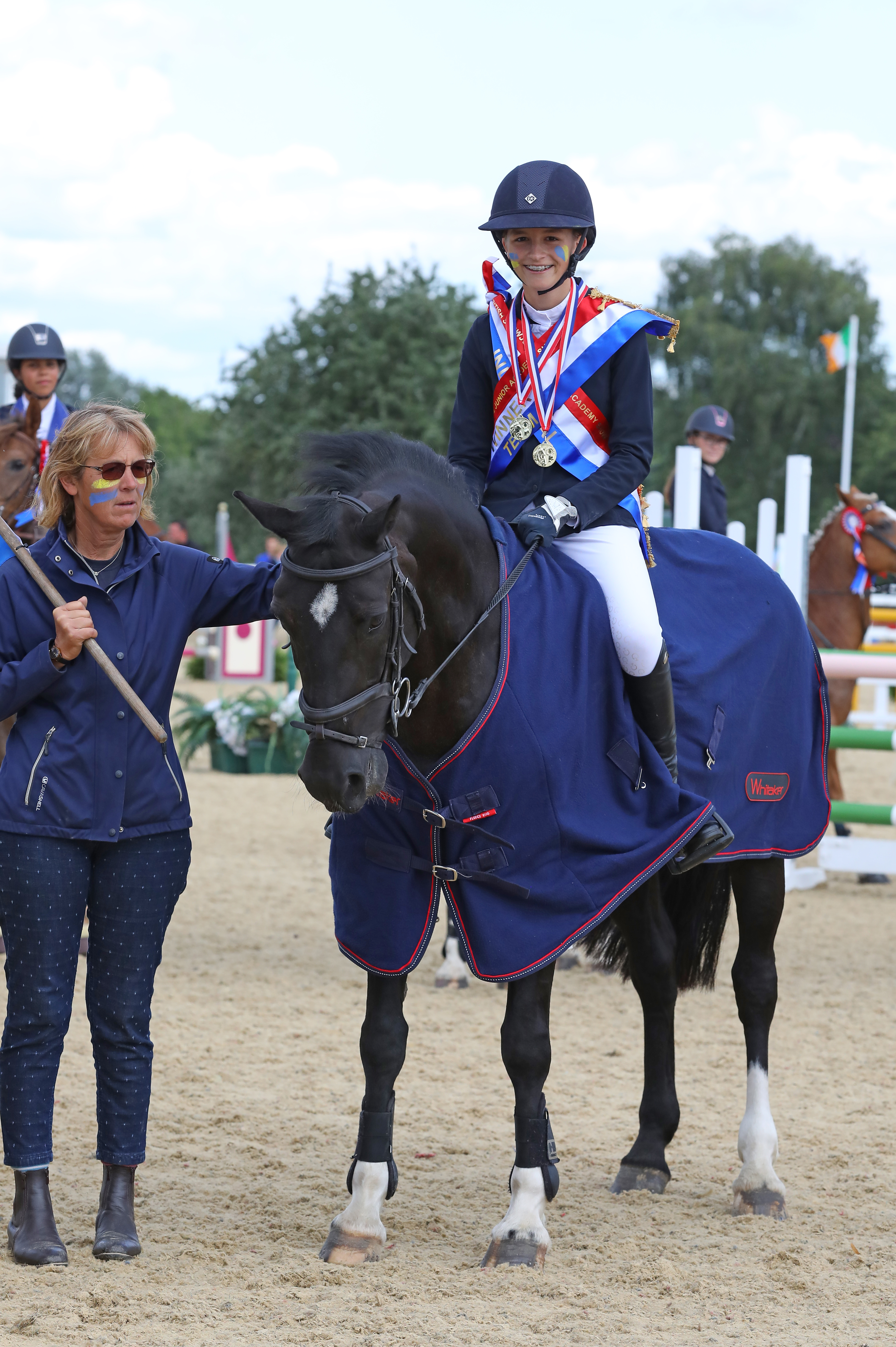 Maxi Individual Winner: India Piper Dadswell & Amelia V [1st Class Images]
Leicestershire claimed the top podium place in a hard-fought Intermediate team competition where 22 teams participated. Five on-form teams returned a zero score and the onus was on the clock.
Pathfinder Erin Baker led the way with a double clear on Furistas Hallo with Isadora Wadd on Tullibards Watson and Lola Ellis Miller aboard Kannan Star followed suit. Anchor Alicia Fell on Ballydunne Captain jumped clear in the first round and made just one mistake in the second but it made no difference to the result and Leicestershire romped away with the win by six seconds.
The Red Hearts took second. First off Alyssa Wright on Lady Royale, Aly Getley with Ikke Van De Riske and anchor Grace Hughes on Ferdi VI all returned double clears while Sophie Evans and Hielone came home with four faults in each round.
Lancs Intermediate 1 took third with their third team member Shannon Sheffield and Contessa M excelling to claim victory in the individual. Alyssa Wright and Lady Royale finished second and Arabella Foster of the Hampshire Tulips riding Colando V finished third.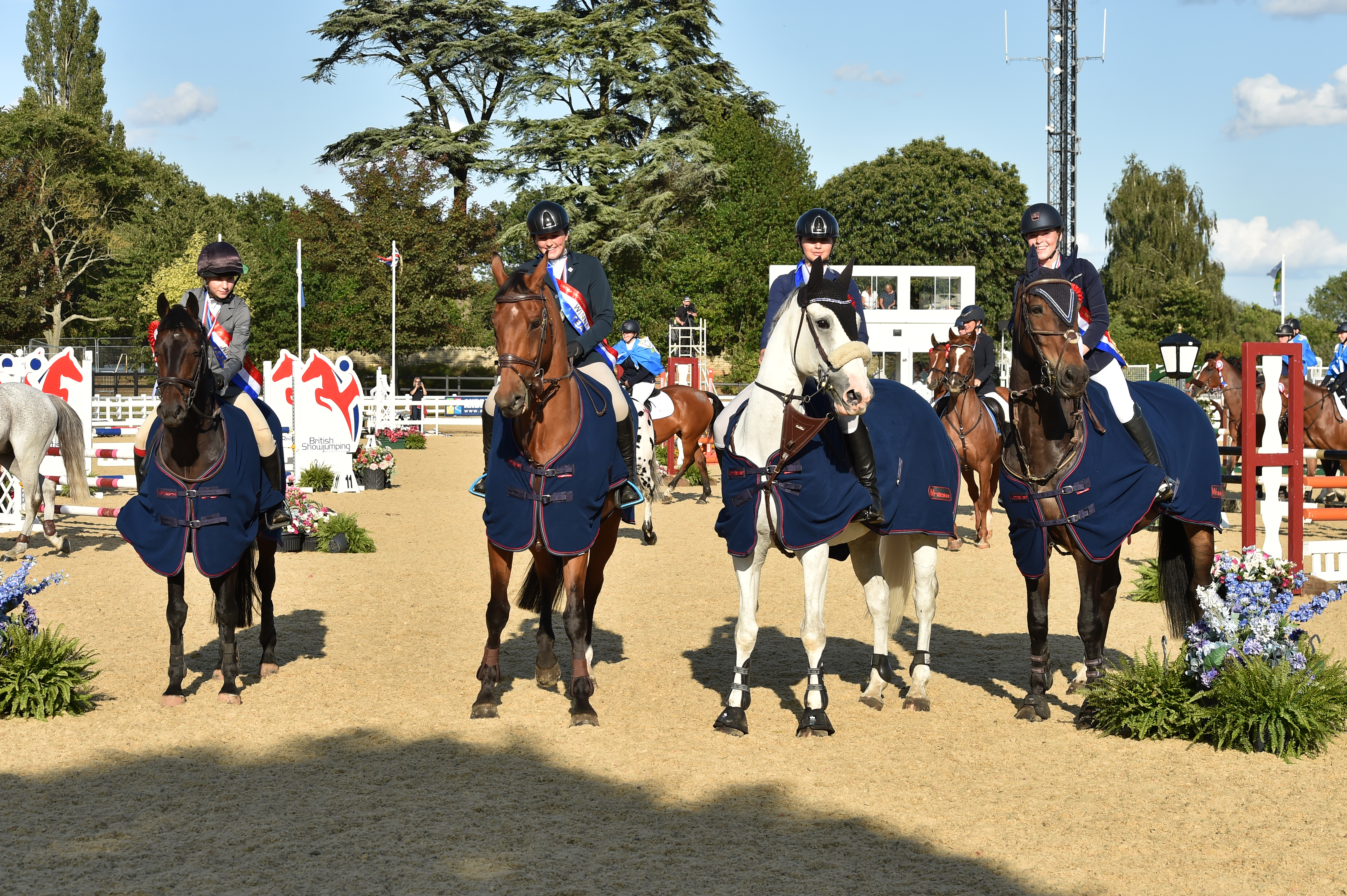 Intermediate Team Winners: Team Leicestershire [1st Class Images]
Intermediate Individual Winner: Shannon Sheffield & Contessa M [1st Class Images]
The Hampshire Bluebells claimed victory in the Advanced Teams, beating six other teams on a score of 12. After posting a zero score in round one to lead with three other teams at the halfway stage, they picked up 12 faults in round two, but it was still good enough to win. Pathfinder Didi Price on Home Sweet Home returned four and eight faults while second to go Emily Gallard on El Nino posted a clear first time out and came home on four in round two. Jenna Good and Bigwin Carabalou were the only member of the team to provide a double clear and anchor member Sasha Good jumped clear in round one and returned eight faults to be the drop score in round two on Cara Clem.
Dyfed Advanced also gave a 12-fault total but were beaten on time by four seconds. First off Taran Yate on Quel Spectacle came home on clear and four faults, Henry Nelson and Guapo jumped for clear and four while returned on four faults on Robin Van Beek, they were unfortunately eliminated in round two and the pressure was on last-to-go Celyn Yate with Figaro. They rose to the occasion and provided a magnificent double clear to elevate the team to second place.
It paid dividends for Celyn Yate and Figaro, who claimed first in the individual competition. Bucks and Beds yellow member Georgia Sims on Hermes VD Perebcom produced a double clear for second and Jenna Good with Bigwin Carabalou also put up a clean sheet for third.
Advanced Team Winners: The Hampshire Bluebells [1st Class Images]
Advanced Individual Winner: Celyn Yate & Figaro [1st Class Images]