Glain Watkin Jones heads the Blue Chip Pony Newcomers Second Round at Arena UK
Tuesday 14 May 2019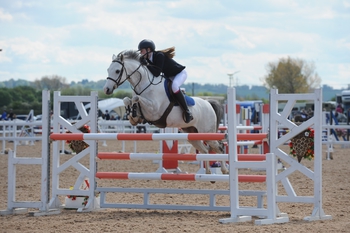 The first Blue Chip Pony Newcomers Second Round of 2019 took place on Sunday during the Pony Premier Show at Arena UK in Grantham, Lincolnshire and it was Glain Watkin Jones who took the victory over seventy-nine other starters.
Each and every rider was aiming to secure one of the four Horse of the Year Show tickets on offer for this October's Blue Chip Pony Newcomers Championship Final and after two nail biting rounds, it came down to just nine combinations in the final jump off.
Sixteen year-old Glain Watkin Jones from Caernarfon, Gwynedd took a convincing win with Trevor H, an 8 year-old grey gelding owned by Iona Watkin Jones. The pair jumped with great pace and precision to bag a treble clear in 37.14 seconds, a time which saw them finish nearly five seconds ahead of their nearest rivals.
The top four combinations secured their place in the Blue Chip Pony Newcomers Championship Final at Horse of the Year Show and the top eight took home the chance to compete in the Blue Chip Pony Newcomers Masters at the British Showjumping National Championships.
Arena UK – Sunday 12th May 2019
Blue Chip Pony Newcomers Second Round
1st Glain Watkin Jones & Trevor H – 0/0/0 – 37.14 seconds
2nd Rachel Proudley & Family Affaer II – 0/0/0 – 42.09 seconds
3rd Thomas Hooper & Intention Eez – 0/0/0 – 42.19 seconds
4th Darcey Foss & Ilston Brave Dancer – 0/0/4 – 37.31 seconds
5th Holly Cooper & Epee Nazar – 0/0/4 – 38.84 seconds
6th Toby Parsons & Cheeki Rafiki – 0/0/4 – 40.15 seconds
7th Tegan Rowlands & Brooklyn IV - 0/0/4 – 47.06 seconds
8th Patrick Thurston & Fantastic Fox – 0/0/12 – 41.80 seconds
NB: Qualifications will be updated pending grading of results.
The Horse of the Year Show 2019 will take place from the 2nd – 6th October at Birmingham's NEC. The British Showjumping National Championships 2019 will take place during the 6th – 11th August at the National Agricultural and Exhibition Centre (NAEC), Stoneleigh Park, Warwickshire.
Blue Chip:
Blue Chip Feed Ltd produce the highest quality feed balancers and supplements available in the UK; there is a feed balancer for every stage in a horse's life to ensure optimum health and well-being. Blue Chip products are exported worldwide. For more information please visit www.bluechipfeed.com.