Wiltshire's Oscar Hobby becomes the NAF Shining Star for June
Monday 02 July 2018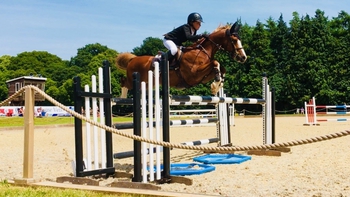 Fourteen year-old Oscar from Pewsey in Wiltshire has been awarded June's NAF Shining Star after demonstrating his desire to improve and drive to succeed as a member of the Berkshire & Oxfordshire Junior Academy.
Oscar was put forward for the award by Berkshire & Oxfordshire Junior Academy Coach Sharon Quant "Exactly a year ago, Oscar and his Mum Fiona saw an amazing video clip of a young 138cm pony and decided to go and try him. They were planning to move straight onto 148cm ponies but Oscar fell in love and they ended up buying him. Reginald is only seven, has very little experience and is very hot which has meant that Oscar has worked so hard with his education and has showed real determination as they attend every training session and they've made it count by qualifying for Hickstead.
It really was a dream come true for Oscar, he has produced this pony himself and they have an incredible bond - well done!!"
Following in his mum Fiona's footsteps, Oscar became a member of British Showjumping in 2011 and has really flourished with the help of coach Sharon Quant. Oscar commented "I felt really pleased and honoured to receive the Shining Star Award. I'm very grateful to Sharon Quant for nominating me. I love producing my own young ponies, we got Reginald (Makarli) in April last year and started in 90cm classes. He is very scopey and brave and really wants to clear the fences. This year I have qualified him for Hickstead and Horse of the Year Show. Sadly this is my last year on 138cm ponies, so I would love to finish with a qualification for Liverpool International Horse Show. I really enjoy being part of the academy, it is great to be part of the team and I enjoyed representing our area."
Branwen Griffin, from NAF, commented "Congratulations to Oscar, a very worthy winner of this month's Shining Star award. It takes a great deal of drive, determination and sheer dedication to produce a young pony. Oscar's hard work has paid dividends with some fantastic results this year. Well Done!"
Oscar will receive some NAF equine products to use alongside the NAF Brighter than White, which he currently uses to keep Reginald looking show ready.
The NAF Shining Star Award was introduced when NAF became a British Showjumping Business Partner. The award is for members of a Junior Academy who have shown a great deal of commitment, progression and outstanding behaviour along with their riding ability and much more. Riders are nominated by their lead coach, and then judged and awarded by NAF to one person each month.