Wednesday, May 22, 2013
Somerset Area Awards Ball Finds New Venue.
Friday 24 February 2012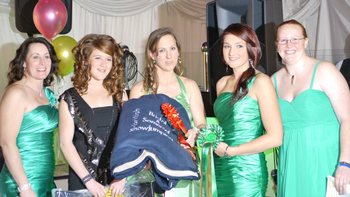 Somerset members enjoyed a fun night at their annual Awards Ball, which this year was held at The Rookery Manor. Thanks must go to Area Representative Katie Pike and Kirstie Pearce for organising this popular event and the awards went to:

JUNIOR NOVICE
1. Hannah Bishop, Green Gem Coco
2. Sarah Hicks, Champion Owens
3. Emily Harding, Gemiroquai III
4. Emily Pearce, Little Madam II
5. Tara Byrtt, Kalusta Mariette
6. Chloe Reynolds, Annaghmore Chaussette

JUNIOR OPEN
1. Tara Byrtt, My Little Tinker
2. Tara Byrtt, Coco Can
3. Maisie Say, Woodfield Star
4. Brody Frost, Little Poppet
5. Jordan Frost, Annaghmore Galaxy
6. Phoebe Locke, Charleys Angel

SENIOR NOVICE
1. Alice Watson, Remember Me VII
2. Jancis Weal, Blue Moon Opposition
3. Emily Harding, Ivan Opportunity
4. Gemma Hallett, Amazing RV
5. Harriett Nuttall, Basil Broom
6. Harriett Nuttall, Sliver Lift

SENIOR OPEN
1. Bina Ford, Tea Time III
2. Hannah Thorne, General Maximus
3. Harriett Nuttall, Highland Cruiser II
4. Alice Watson, High Fly 8
5. Helen Buffin, Just Whispa
6. Tom Dunn, Want That One

LEADING RIDER
1. Alice Watson

Well done all of you!


Photo: The Senior Novice Championship awards - with Kirsty Pearce, Emily Harding, Alice Watson, Gemma Hallett and Katie Pike at Rookery Manor.