Thursday, May 23, 2013
Charles Stanley British Masters Champion, Scott Brash returns to defend his title!
Tuesday 24 May 2011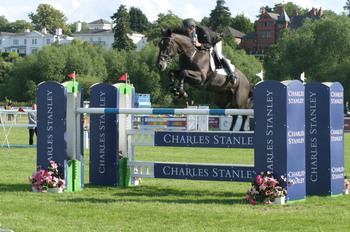 Last years winner Scott Brash from Scotland has today confirmed that he will be attending the Charles Stanley British Masters to try and defend his title.
Other riders which have been invited to join and challenge the young Scottish show jumper are Great Britain's top ranked rider Guy Williams and the legendary multi Olympiad John Whitaker from Yorkshire.
The show will take place between the 1st - 3rd July 2011 at SouthView Equestrian Centre in Cheshire. The event will be a superb showcase for spectators to experience the thrill and excitement of top level showjumping.
This British Masters also has the added excitement of it being just one of three opportunities in England for riders to gain their competency qualification for London 2012 and with classes up to 1.60m in height and in excess of £100,000 prize money; we can expect strong competition across the horses and riders taking part.
So come along and enjoy this truly challenging and exciting sport first hand for as little as £5 per person. Alternatively you can treat yourself to a ringside VIP ticket by taking a hospitality package which will seat you amongst riders, owners and sponsors in the fully licensed VIP marquee. You can book your tickets by either clicking here, or calling

01270 528684
A licensed bar and café are open all day, with an evening barbecue and music on Saturday.