Sunday, May 19, 2013
Queen Elizabeth II Cup goes to Daniel Moseley
Monday 01 August 2011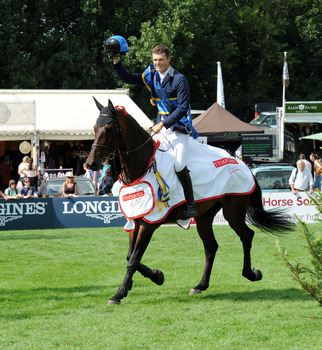 Saturday The Longines Royal International Horse Show played host to the Queen Elizabeth II Cup. With the sun beating down crowds flocked in to the world famous Hickstead showground to watch some top class Showjumping.
It was twenty one year old Daniel Moseley from Nottinghamshire who jumped the only double clear of the competition to take the win in style. Daniel who is currently based with William Funnell rode the Billy Studs nine year old bay gelding Billy Grand. Knowing that nobody had jumped clear in the jump off at the point of him entering the arena Daniel opted to go for a the slow safe round which paid off.
Kent's Guy Williams took the runner-up position riding his own eleven year old chestnut gelding Titus II. Lowering a pole in the jump off put them out of the running for first place but jumping a very quick round meant they held onto second.
Third place and the last rider to make it through to the jump off was Suffolk based Timothy Davies. Timothy rode Barrett Watson's nine year old bay gelding Valentijn O who lowered a single pole in the jump off round in a time of 55.05 seconds.
Queen Elizabeth II Cup
The LonginesRoyal International Horse Show – 30th July 2011
1st Daniel Moseley / Billy Grand – 0/0 58.52 seconds
2nd Guy Williams / Titus II – 0/4 53.50 seconds
3rd Timothy Davies / Valentijn O – 0/4 55.05 seconds
4th Joe Clayton / Mr Darcy V – 4 78.07 seconds
5th Tim Page / Quentin Tarantino – 4 81.58 seconds
6th Geoff Luckett / R Little Lefanie – 4 82.57 seconds
7th Phillip Miller / Caritar Z – 4 83.91 seconds
8th Sam Hutton / Lancelot TN – 4 84.03 seconds
Photo courtesy of
Kathryn Pearn