Essex's Claudia Moore tops the Equithème Leading Pony Showjumper of the Year Qualifier at Bishop Burton College
Monday 09 July 2018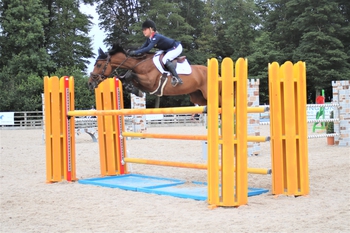 Defeating thirty-six others, Claudia Moore took the winning spot in the Equithème Leading Pony Showjumper of the Year Qualifier at Bishop Burton College in East Yorkshire on Sunday.
All of the starters were focused on picking up one of the three qualification tickets on offer for the Championship Final which will be held at Horse of the Year Show later this year. From the initial starting field, only four were able to access the jump off.
Thirteen year-old Claudia from Brentwood, Essex headed the class on Elando Van De Roshoeve, a 14 year-old bay gelding owned by Katrina Moore. They made their journey up the country worthwhile when they secured a double clear in a super quick time of 45.00 seconds.
The riders and ponies that finished in first to fourth took home the chance to compete in the Equithème National 148cm Championship at the British Showjumping National Championships.
Bishop Burton College – Sunday 8th July 2018
Equithème Leading Pony Showjumper of the Year Qualifier
1st Claudia Moore & Elando Van De Roshoeve – 0/0 – 45.00 seconds
2nd Perdita Digby & Kayleighs Star – 0/0 – 48.16 seconds
3rd Holly Truelove & Rexter D'Or – 0/4 – 43.87 seconds
4th Vicki Selby & Bay Friend – 0/4 – 45.53 seconds
NB: Qualifications will be updated pending grading of results.
The Horse of the Year Show 2018 will take place from the 3rd – 7th October at Birmingham's NEC. The British Showjumping National Championships 2018 will take place during the 7th – 12th August at the National Agricultural and Exhibition Centre (NAEC), Stoneleigh Park, Warwickshire.