THE 2019 ELLA POPELY AWARD GIVEN TO WILL FLETCHER WHO WILL BE MENTORED BY LAURA KRAUT
Sunday 23 December 2018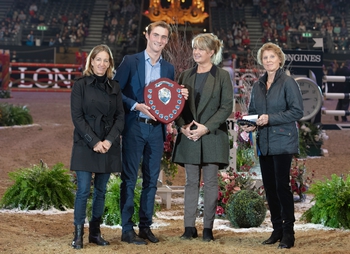 Will Fletcher, aged 19 from Oxfordshire, has been announced as the recipient of the 2019 Ella Popely Mentorship Award at Olympia, the London Horse Show this afternoon.
This unique mentorship is awarded in recognition and memory of Ella Popely, one of Great Britain's up-and-coming youth riders, who tragically lost her life in December 2016 in a fatal car accident.
The mentorship award is awarded to an up-and-coming rider aged 18 – 25 years old with a view to giving them an opportunity to be mentored by one of the world's best riders. Given to a talented individual competing at 1.40m and above who has also shown exceptional resilience and dedication to the sport, the selectors felt that Will met every criteria.
The next 12 months will allow for Will to benefit from a mentorship with the outstanding current World Equestrian Games team Gold medallist Laura Kraut who also won Team Gold at the Beijing Olympic Games in 2008. Son of former Olympian Graham Fletcher and London 2012 reserve rider Tina Fletcher, Will won Team Gold at his first Young Rider European Championships this year before making his debut on a senior Nations Cup team in Rabat and he hopes that the mentorship will allow him to develop even further in his chosen career within the sport.
The recipient will also further benefit via the generous support being offered by supporting partners NAF who will be offering product, Hickstead with a show credit package, Honeybunn Photography with a media shoot package, Boehringer Ingelheim with a Veterinary mentorship and support package and the Worshipful Company of Master Saddlers who will be gifting a hand-crafted bespoke saddle. British Showjumping will also be supporting the award in the form of a membership and PR package.
Lea Popely, Ella's mother and co-founder of the mentorship with USA rider and close friend Lauren Hough, commented on Will's selecton "There were some strong applications for the 2019 mentorship but it was Will who really stood out for the selection panel. He showed considerable maturity in the way that he applied for the mentorship giving a clear illustration of what he hoped to gain from it and this, accompanied with his talent and commitment to the sport is what made him the choice for 2019.
Will has shown great promise through the summer achieving considerable success on the national and international stage culminating with a Team Gold at the Young Rider European Championships followed by an inaugural appearance on a senior nations cup team. It was felt that he would greatly benefit from the mentorship and we are all looking forward to him building a relationship with Laura and the supporting sponsors to assist him reach his goals.
We are extremely grateful to Laura Kraut, who's enthusiasm for the mentorship has been overwhelming, and we look forward to seeing Will benefit from the incredible opportunity that Laura is making available to him".
The annual mentorship award that is open to all riders to apply for going forward who meet the eligibility criteria. The recipient will then be selected by a panel and announced at the end of each of year.
British Showjumping would like to thank Lauren Hough, Ella's mother Lea Popely who were the founders of the award along with all others supporting the mentorship from which our promising riders of the future will have the opportunity to benefit from.
Image: left to right: Lauren Hough, Will Fletcher, Lea Popely and Di Lampard at Olympia, the London International Horse Show
credit: Paul Harding Photography