Derby's Holly Hammond dominated the KBIS Insurance Senior British Novice Second Round at Sykehouse Arena
Tuesday 26 June 2018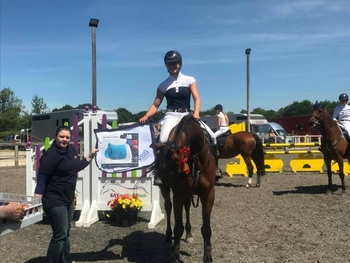 Holly Hammond dominated the KBIS Insurance Senior British Novice Second Round which took place at Sykehouse Arena in Goole, North Humberside, as she scooped both the first and second place rosettes.
The class got underway with thirty-nine keen starters all looking to claim a place in the KBIS Insurance Senior British Novice Championship Final which is to be held at the British Showjumping National Championships in August. After two nail biting rounds of showjumping, twelve combinations were left to take their place in the final jump off and all were keen to achieve a sought after treble clear as this would secure their qualification place.
Holly Hammond from Melbourne, Derby finished top of the leader board with Lee Penny's 8 year-old bay gelding, Flugge Frits. Over the newly shortened jump off course, this combination really picked up the pace as they left all the fences standing for a treble clear in 41.10 seconds
With another eight combinations also achieving a treble clear, a total of nine combinations now go forward to the KBIS Insurance Senior British Novice Second Rounds Final.
Sykehouse Arena – Sunday 24th June 2018
KBIS Insurance Senior British Novice Second Round
1st Holly Hammond & Flugge Frits – 0/0/0 – 29.85 seconds
2nd Holly Hammond & Landown New Edition – 0/0/0 – 30.43 seconds
3rd Chantelle Duggan & Be My Romeo – 0/0/0 – 30.89 seconds
4th Lauren Sisson & Lady Lasino -0/0/0 – 40.39 seconds
5th Ellie McNeil & Fowlerheights WaterLily - 0/0/0 – 44.98 seconds
6th Kate Lewis & Haricot Blue – 0/0/0 – 43.43 seconds
7th Lily Storer & Private Call – 0/0/0 – 45.15 seconds
8th Lousie Redfearn Redagio i – 0/0/0 – 46.29 seconds
NB: Qualifications will be updated pending grading of results.
The British Showjumping National Championships 2018 will be hosted at the National Agricultural and Exhibition Centre (NAEC), Stoneleigh Park, Warwickshire during the 7th - 12th August.