Oliver Fletcher wins Individual Bronze at Children's European Championships
Saturday 12 August 2017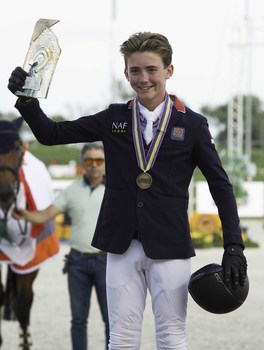 It was yet another brilliant afternoon at the Children, Junior and Young Rider Championships in Samorin, Slovakia today when Oliver Fletcher won Individual Bronze to accompany the Team Gold he won two days ago. Riding under the British Youth Team's title sponsor banner of Team NAF, it was an extremely emotional moment when Oliver took his place on the podium for the second time this week.
Fourteen year-old Oliver from Faringdon, Oxfordshire performed incredibly throughout the championships showing both maturity and talent in the way that he approached the entire competition which commenced for him on Tuesday. The Individual Bronze medal win came as the result of six testing rounds of jumping across the championships, all of which he delivered without penalty to finish on a zero penalty overall, one of only three to do so.
Riding the eye-catching and scopey 9 year-old grey gelding Disckoboy D.N, owned by Lady Kirkham and Lady Harris, Oliver made up one of the thirty strong field that came forward to contest the Individual Final competition. With all combinations accruing points from their previous three rounds it was an initial group of fifteen combinations that sat in pole position on a zero penalty score. This had whittled down by the end of the first round in today's Individual Final to a group of eleven as they moved forward into the second round of jumping.
With medals at stake, and the field being as strong as it was, the second round was definitely a tough one that was set for them. Despite this though, the clears kept coming with Oliver and six other combinations managing to retain their zero penalty score. With seven still sitting in joint first place it meant that a timed jump-off would be needed to decide the final placings. With the atmosphere already tense, it very quickly started to become electric whilst more and more people started to find their place around the arena in the hope of cheering their respective riders into a top three placing.
Drawn mid field, Oliver had three riders to go before him and then three to follow. The gauntlet was laid down by second to go Rose de Balanda (FRA) when she delivered the first clear in a time of 30.74 seconds. Knowing that he had some fast riders behind him, Oliver was determined to give it his best shot whilst not being too reckless and risk having a fence down in the hope that it would force others to make mistakes behind him. His strategy certainly paid off in terms of delivering yet another foot-perfect clear but unfortunately he just missed out on catching Rose's time when he stopped the clock a fraction of a second slower in 30.93 seconds.
Sitting in Silver medal position at that point, it was then a case of having to watch with baited breath whilst the remaining riders came forward. With the one following him lowering a fence, tension mounted all the more waiting for the last two to come forward and finding out whether he would manage to retain a medal winning position. It was penultimate rider Lorenzo Correddu (ITA) that became the game changer when he rode an incredibly fast clear to stop the clock in 30.11 seconds and push ahead of both Rose and Oliver to relegate them into respective Silver and Bronze position. This placing remained unchanged when the final rider Emilia Housen (BEL) was eliminated at the first fence allowing Great Britain to relax and start celebrating their medal winning victory.
Today's Bronze medal tailed the Team Gold which Oliver won on Thursday following outstanding performances by both himself and his team mates across both Tuesday and Thursday. This makes it the third Children's European Championships medal that he has won, having won an Individual Silver at 12 years-old in 2015 when the Championships were held in Austria.
For further information on the show and full results, visit www.xbionicsphere.com/en/equestor.
British Showjumping would like to thank NAF, title sponsors of the Senior Nations Cup Teams along with the Children, Junior and Young Rider teams.
NAF's premium range of Five Star brands include Superflex, Superflex Senior, PROFEET, Optimum, Magic, Oestress and Respirator Boost with quality at the heart of everything they do. They are a UFAS (Universal Feed Assurance Scheme), GMP+ (International Feed Assurance Scheme) and BETA NOPS (Naturally Occuring Prohibited Substances) accredited company and this enables them to guarantee full traceability on all the natural ingredients they utilise in their formulations, which are also selected in compliance with the FEI guidelines for Clean Sport. For further information, visit www.naf-equine.eu/uk/index.jsp.