Emma Wall from Lancashire is March's NAF Shining Star
Thursday 07 March 2019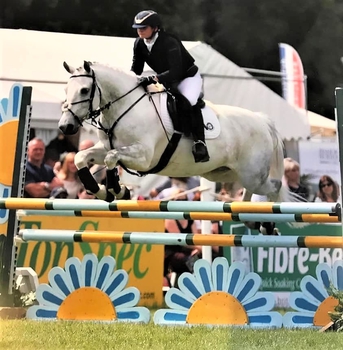 Emma Wall has been awarded the NAF Shining Star for March as a result of the dedication and growth that she shown. These qualities resulted in Emma being nominated by Lancashire Academy Lead Coach, Andrew Millin.
Fifteen year-old Emma from Leyland, Lancashire has worked hard to produce her pony MS Apaches Coco Chanel and with regular Academy training sessions, they have recently stepped up to competing at Pony Premier Shows. "Emma and Coco Chanel competed in the Pony Newcomers class at the Aintree Equestrian Centre 148cm Pony Premier Show and they produced a round that even Emma thought she would never achieve" said Andrew. "Emma is her own greatest critic but she truly deserves a lot of credit for the success she has recently had. I hope this award encourages Emma to grow in self-belief."
Emma has been a member of British Showjumping for three years and is currently competing on both MS Apaches Coco Chanel and Amy's Girl. On Coco Chanel, Emma has progressed from jumping in 70cm Opens to Pony Newcomers. On Amy's Girl, Emma has gained all four Senior British Novice double clears needed to qualify for this year's second rounds.
After finding out she was the winner of March's NAF Shining Star, Emma said "I'm really excited that I have been chosen to be the NAF Shining Star, it shows that all of the hard work that I have put into both of my rides is starting to pay off.
"As it is my final year on ponies I would really like to have special year with Coco Chanel; we have owned her for four years and the plan is to qualify for the Pony Discovery Championship and the Pony Newcomers Masters at the British Showjumping National Championships. I'd also like to compete for my Academy Team.
"I aim to keep up the hard work and training with my other horse Jessie (Amy's Girl). I would like to progress her up the senior levels in the years to come. Everything that I have achieved wouldn't be possible without the help of Andrew Millin, he has taught me so much both on and off the horse. Andrew and Development Officer Michelle Clough have been incredibly helpful with new rule changes and always make Academy sessions so much fun for me and my friends."
Lisa Field from NAF added "It's a real pleasure to hear all about Emma and how hard she has worked to be competing in Newcomers classes. It shows with her dedication and determination that she has the ability to go far. We look forward to following Emma's progress. Well done Emma and all the best for 2019 – a very deserving Shining Star!"
Emma will now receive a number of NAF Equine products to use alongside the products that she is already using including NAF Magic, Superflex and an array of products from the Care range.
The NAF Shining Star Award was introduced when NAF became a British Showjumping Business Partner. The award is for members of a Junior Academy who have shown a great deal of commitment, progression and outstanding behaviour along with their riding ability and much more. Riders are nominated by their lead coach, and then judged and awarded by NAF to one person each month.