British Bred 6 year-old Billy Galleon wins Connolly's RED MILLS Senior Newcomers Second Round at Pyecombe Horse Show
Monday 09 July 2018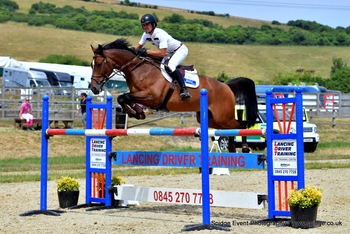 It was the 6 year-old bay gelding Billy Galleon that put in three faultless rounds of jumping to secure a win in the Connolly's RED MILLS Senior Newcomers Second Round yesterday, Sunday 8th July, at Pyecombe Horse Show in West Sussex.
The first round had seen seventy-four combinations come forward in the hope of picking up the qualifying tickets to the Championship Final which takes place at Horse of the Year Show in October. With just over half of the field jumping clear to come forward for the second round it was an extremely strong field that moved to the second of the three stages. The second round certainly saw a change in fortunes with only a quarter of them achieving a further clear resulting in just fifteen able to move forward in the competition for the third and final round of jumping.
It was Luke Hill from Malton, North Yorkshire aboard Billy Galleon, owned and bred by the Billy Stud by their proven stallion Billy Congo that took the win with his impressive third round clear in a time of 47.21 seconds.
Six combinations in total delivered a third round clear with those that finished in 3rd to 6th place taking home the chance to compete in the Connolly's RED MILLS Senior Newcomers Masters at the British Showjumping National Championships.
Pyecombe Horse Show – Sunday 8th July 2018
Connolly's RED MILLS Senior Newcomers Second Round
1st Luke Hill & Billy Galleon – 0/0/0 - 47.21 seconds
2nd Alex Hempleman & Jalanna – 0/0/0 - 48.25 seconds
3rd Max Routledge & Mephis vd Vaart – 0/0/0 - 48.48 seconds
4th Tim Davies & Holiday vd Hazelhof – 0/0/0 - 49.01 seconds
5th Ruby Fryer & Hallmark – 0/0/0 - 51.36 seconds
6th Jessie Drea & Amazon JD – 0/0/0 - 56.95 seconds
NB: Qualifications will be updated pending grading of results.
The Horse of the Year Show 2018 will take place from the 3rd – 7th October at Birmingham's NEC. The British Showjumping National Championships 2018 will take place during the 7th – 12th August at the National Agricultural and Exhibition Centre (NAEC), Stoneleigh Park, Warwickshire.
Image Credit: Spidge Event Photography
Connolly's RED MILLS:
Connolly's RED MILLS is an Irish family owned company, providing precision nutrition for a wide range of equine needs. The company was established in 1908 in Co. Kilkenny, and today, exports to over 50 countries worldwide. For people who value their horses as high performers, Connolly's RED MILLS has been the automatic choice for over 100 years. We know just what it takes to get you the best results in terms of equine nutrition, health, well-being and performance. Some of the most successful high-performance sport horses in the world have been fed on Connolly's RED MILLS and we are delighted to launch our new dedicated Sport Horse range of feeds. The quality products that produce these results are supported by nutritional research along with some of the most technologically advanced innovation and manufacturing processes in the world. For further information, please visit www.redmills.co.uk/Horses/Home.