Ben Maher wins the leading rider award at London Olympia.
Tuesday 20 December 2011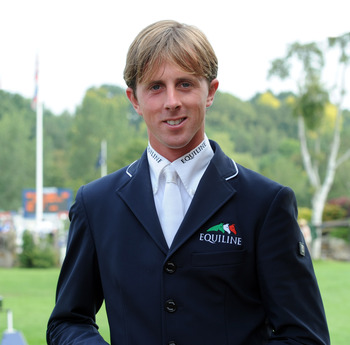 After a week of thrilling competition and fabulous displays with British riders dominating the international showjumping it was Hertfordshire based Ben Maher who took the leading rider award.
Ben picked up top results throughout the show with his string of horses. The highlight being the FEI Rolex World Cup on Sunday where he partnered the 9 year old black stallion Tripple X III owned jointly by Quainton Stud and himself.
However it was Ireland's time to shine before the Grand Finale when Dermott Lennon and Judith Sossick's Loughview Lou Lou claimed the Olympia Grand Prix.

Eleven made it through to the jump-off including Britain's Peter Charles riding Murka's Nevada and Robert Smith partnering Stone Hill Farms 10 year old bay gelding Ude. Unfortunately for Robert, luck was not on his side in the jump-off. However, Peter set an outstanding target on Olga White and Team Murka Ltd's 10 year old chestnut stallion for the rest of the field to chase.

Dermott followed a few turns later and used his ride's natural pace to better the time, doing so by just over a second.

Pushing Peter down the line to third was Spain's Manuel Anon riding Rackel Chavannaise who came close to threatening Dermott, but he was 0.76 seconds adrift to claim second place.

Earlier in the day, Guy Williams gained his fifth victory of the week in the Martin Collins Eraser stakes. Riding the 8 year old bay mare Djakarta owned by Andrew Doswell, he stunned the packed house of enthusiastic spectators with an early fast round beating fellow Brit William Funnell and Billy Grand into the runner-up spot by a huge seven seconds.

For full results please visit; www.olympiahorseshow.com