Mark Edwards takes the win in the International Stairway at the South of England Show
Monday 10 June 2019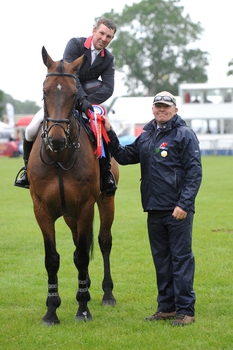 The fourth leg of the International Stairway Series 2019 was held at the South of England Show on Friday and it was Mark Edwards from Cowbridge in South Glamorgan who clinched the win on Montreuxs Tale, a 9 year-old British bred gelding owned by Martyn Edwards.
Course designer Ben Townley set a challenging first round track with only six combinations gaining a spot in the jump-off. The leader board was looking tight with just 0.94 seconds separating the top five until Mark, who now sits third in the league table, wiped 2.04 seconds off the leading time crossing the finish line in 45.34 seconds. Helen Tredwell, who is currently taking the top two spots in the league table, claimed second and fourth place with her own and Alan Tredwell's Larksong (47.38 seconds) and Colin Garratt's Sebastian VII (47.84 seconds) respectively.
Phillip Miller piloted Diana Cornish's Darona into third after posting a time of 47.83 seconds and he produced a time that would have been quick enough for second on his other ride, Jacqueline Light's Noble Warrior, but the pair were unfortunate to pick up 4 faults at the penultimate fence, which meant that they finished in sixth place overall. Fifth place went to John Crippen and Patricia Brown's The Flying Fox III after they crossed the finish line in 48.32 seconds.
The International Stairway takes place across a number of county shows where winning combinations accrue League Points that count towards the Final which takes place at the British Showjumping National Championships in August at Stoneleigh Park. The series culminates with a high profile championships where three Horse of the Year Show International Wild Cards are allocated as well as it being where the sports National Champion is crowned.
Image: Mark Edwards and Montruexs Tale with Michael Bainbridge [Credit: Steve Robards]