Alice Godfrey tops the KBIS Insurance Senior British Novice Second Round at Petley Wood Equestrian Centre
Monday 22 May 2017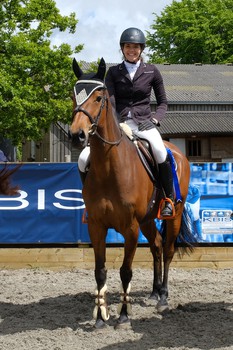 Alice Godfrey took on the KBIS Insurance Senior British Novice Second Round at Petley Wood Equestrian Centre in Battle, East Sussex on Saturday in fine style to secure top spot.
With thirty starters all gathered to do battle for a place in the KBIS Insurance Senior British Novice Championship Final which is to be held at the British Showjumping National Championships in August, the tension was high. Gaining a sought after treble clear was the aim of each competitor as this would secure their qualification place.
The first two rounds whittled competitor numbers down until just nine were left to contest for their treble clear in the final jump off. After watching the first four riders have poles down over the newly shortened course, Alice Godfrey from Billericay, Essex knew she had her work cut out to bring home a clear round on board her 5 year-old bay gelding, Hannibal S. This pair went on to show their talent for speed and accuracy as they jumped to a treble clear in 37.76 seconds, which proved to be too fast for any of the other combinations to better.
Victoria Jacobs from Wickford, Essex scooped second place on board her 8 year-old bay mare, Edessa II. This pair produced a strong challenge as they crossed the finish line on a treble clear in 39.45 seconds.
Taking home third place with a treble clear in 41.22 seconds was Sophie Weaver from Hatfield, Hertfordshire riding her own 8 year-old chestnut gelding, NBE Dynamic.
With one further rider also achieving a treble clear, four combinations will now go forward to the KBIS Insurance Senior British Novice Championship Final.
Petley Wood Equestrian Centre – Saturday 20th May 2017
KBIS Insurance Senior British Novice Second Round
1st Alice Godfrey & Hannibal S – 0/0/0 – 37.76 seconds
2nd Victoria Jacobs & Edessa II – 0/0/0 – 39.45 seconds
3rd Sophie Weaver & NBE Dynamic – 0/0/0 – 41.22 seconds
4th Emma-Jo Slater & Harmony Z – 0/0/0 – 41.25 seconds
NB: Qualifications will be updated pending grading of results.
The British Showjumping National Championships 2017 will be hosted at the National Agricultural and Exhibition Centre (NAEC), Stoneleigh Park, Warwickshire during the 8th - 13th August.
KBIS British Equestrian Insurance:
KBIS British Equestrian Insurance is the UK's leading independent horse insurance specialists, With over twenty years of experience KBIS offer a range of policies for the leisure horse to high value sports horses with a range of veterinary cover options. KBIS's product range includes horsebox and trailer insurance, property insurance, event and show insurance, standalone personal accident cover as well as a specialist liability department offer cover for private individuals, businesses and events and shows. For further information, visit www.kbis.co.uk.