Thursday, May 23, 2013
CHARLES STANLEY BRITISH MASTERS 2012
Monday 02 July 2012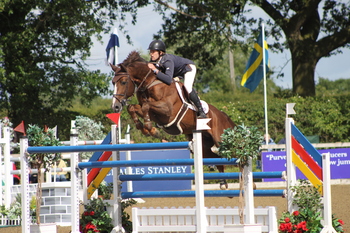 After three days of top class jumping, Joe Clayton pulled an extra special round out of the bag to clinch the Charles Stanley British Masters grand prix riding Mr Darcy.
The final round was almost a re-run of the 2011 grand prix where Joe Clayton and Mr Darcy finished third to Laura Kraut and John Whitaker.
With the fastest of the top 25% contesting the jump going last, Joe Clayton did his work early on by taking a couple of early cuts in his first round to secure the favoured last draw.
Course designer Peter Gillespie pitched his course absolutely right as 12 of the 48 starters did indeed jump clear.
The jump off track had plenty of twists and turns along the way, with the Charles Stanley upright standing at 1.70m coming at the end of a tempting final run.
Following good clears by Jo McGlory (Camielo), William Funnell (Billy Angelo) and John Whitaker who finished runner up for the second year running riding Argento, Joe Clayton, who is based with Michael Whitaker judged his round to perfection, and the crowd roared their approval.
"He was spot on everywhere, but he turned ultra tight to the double, and I think that's where we saved the most time" said Joe, who also won the opening class on the final day riding Antello Z.
Fellow stable jockey for Michael Whitaker Richard Howley was also in particularly good form, the Irishman winning two international classes with Doobally and Zalandra, and he also claimed the winter grade C championship riding Wanant.
Despite the changeable weather, the second running of this Charles Stanley British Masters at South View Equestrian Centre proved just as good as the inaugural fixture last year, and the jumping was of the highest order throughout.
Every class was hard fought, and British winners included Daniel Moseley who secured victory in the Harveys World rankings class riding Billy Grand. Dan's boss William Funnell finished second with Billy Congo.
Dan Neilson celebrated his first senior call up (Falsterbo) with a first day win riding Chauvanist, and Mark Armstrong successfully pushed Zagerhorn against the clock for the first time to head a thrilling 1.35m class.
For sheer entertainment value, you could not beat Keith Shore and Geoff Luckett being drawn early in the accumulator class, and after two crowd-pleasing rounds, they duly clinched first and second places riding Stranger and Lottie.
Zac Beesley made his last ride on Vancouver IX a winning one when from last draw, he claimed top spot in the winter amateur final.
Zac, aged 16 left to start a new job with Andrew Saywell after the show.
Three pony classes gave selectors to ponder over, Alex Chitty and the wonderfully consistent Amilie JR Z producing the only double clear to win the John Whitaker International winter classic final.
Alex and Amilie saved his best until last after finishing second on the previous two days where the winners then were Millie Allen (Little Ryan) and Christie Pritchard (Whitehorn Girl).