Monday, June 25, 2018
SEIB to sponsor the British Showjumping Winter Novice Championship for the fifth year
Tuesday 12 September 2017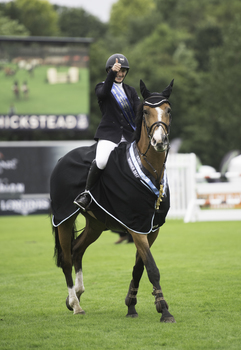 Specialist insurance solution provider, SEIB, will be joining forces with British Showjumping once again to continue their support of the Winter Novice Championship for the fifth consecutive year.
SEIB has been providing specialist insurance solutions since 1963 and the company's reputation has been built on giving good honest advice, whilst offering insurance products to cover the exacting needs of their clients. SEIB provide specialist schemes including a range of equestrian insurance policies that are affordable and adaptable. SEIB has been arranging horse related insurance for nearly fifty years and they offer both personal and commercial packages. SEIB also offer exclusive discounts to British Showjumping members taking out new insurance policies for horses, horseboxes, trailers and yards. For more information on this, simply ring 0845 873 4904.
The SEIB Winter Novice Championship is a popular series made up of twelve national qualifying rounds which are held ahead of the Championship Final, which will once again be run during the prestigious Longines Royal International Horse Show at Hickstead (25th – 29th July 2018). Rebecca Marsh and Predator Ridge used every tight line to their advantage in this year's jump off to take the 2017 Championship title.
Commenting on this announcement, Nicolina Mackenzie, Marketing Manager at SEIB, said "We are delighted to continue our sponsorship of this very special Championship. Not only does it give competitors an aim for the winter months, but it also give them a very special opportunity to jump in the famous Hickstead international arena, something that not very many riders get a chance to do. SEIB Insurance Brokers feel privileged to be part of something that helps to make dreams come true."
Maria Haig, Head of Communications at British Showjumping added "We are thrilled to announce SEIB's continued alignment with the Winter Novice Championship. Their support of the series is pivotal to its success and we feel fortunate to have SEIB's ongoing commitment for another season."
Competitors have the opportunity to qualify for the SEIB Winter Novice Championship 2018 at the following direct qualifiers:
Winter Novice Championship Qualifiers 2017/18
Northcote Stud ~ 29th September - 1st October 2017
Crofton Manor Equestrian Centre ~ 27th - 29th October 2017
Scottish National Equestrian Centre ~ 25th – 26th November 2017
Alnwick Ford Equestrian ~ 6th January 2018
Arena UK ~ 19th – 21st January 2018
SouthView Equestrian Centre ~ 16th – 18th February 2018
Solihull Riding Club ~ 24th - 25th February 2018
Bishop Burton College ~ 2nd - 4th March 2018
Hartpury College ~ 10th - 11th March 2018
Morris Equestrian Centre ~ 16th - 18th March 2018
TBC 2018
Royal International Horse Show ~ 25th - 29th July 2018
Image: Rebecca Marsh & Predator Ridge - SEIB Winter Novice Champions 2017
SEIB:
SEIB Insurance Brokers formerly known as South Essex Insurance Brokers are in the top 75 brokers in the country and have been in business for over 50 years. SEIB Insurance Brokers specialise in niche markets and equestrian insurance is a large part of the business. Communication is an important key to the company's success and the ability to talk to people, explain policies and help with problems is regarded as its greatest asset and is the reason they have won many industry awards for customer care. SEIB Insurance Brokers have competitive rates for horse, horsebox, trailer, homes with stables, liability and anything else equestrian. Call for a quote on 01708 850000 or please visit www.seib.co.uk.